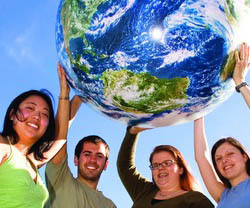 Educational Institutions are suffering large cuts in their budgets from Government so increasing International Student Recruitment  bring much needed revenues to assist in protecting the quality of education given by our colleges and universities.
It would also lead to job creation, both inside and outside the Higher Education sector, as the international students contribute additional fees and living expenses whilst studying.  Marketing teams are now challenged with reaching those students.
Campaigns such as these can often be disjointed and then the college marketer is challenged with reaching the students on their preferred devices. The growing tablet and mobile user base in that 18-24 year old age group, coupled with being able to reach students across platforms such as Facebook, YouTube and Twitter is forcing educational marketing online.
Using effective digital publishing software should help educational marketers everywhere with their initiatives. Listed below are some quick wins.
•  Revamp college prospectuses by embedding multimedia such as video and audio to engage your readers. Provide your virtual tour or viewbook  within the content pages of the online prospectus.
•  Change student interviews from print on paper to live recordings in audio or in video format. Bring in those videos that are scattered across YouTube and other web sites.
•  Show video recordings of the wonderful research projects carries out across faculty.
•  Perhaps include recorded interviews with industry partners who regularly recruit from your college.
•  Use the original base content of the printed prospectus and personalise the multimedia content to the prospective student, based on their course interests, thereby personalising the prospectus for them.
•  With digital publishing software you can output in flash or html5, you can even publish your material to apps for the Android and Ios (Apple) tablet and mobile devices. Many colleges can also publish to their Facebook pages, engaging their reader there without them leaving the fan page.

Go ahead, start publishing today and improve your International Student recruitment with education marketing fuelled by a good digital publishing solution.  To learn how it has helped colleges near you, read more about the customers of 3D Issue EDU or try the software for free for 14 days

By Linda Daly