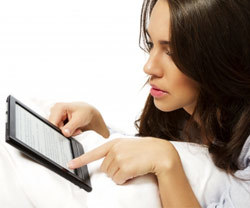 The rise of eBooks and the eBook evolution in general has been a natural progression in a world where online activity such as the online location and absorption of content is now the norm. We have, through the far reaching capabilities of the internet, found ourselves with a resource unmatched in history, a resource which can be accessed across a wide range of connected devices meaning this vast chasm of information is available to us at pretty much anyplace, at any time.
It can be hard to imagine but it was only a few years ago that the internet first spiked the general public's interest, this was quickly followed by an ever growing and evolving range of devices that made accessing this quite brilliant resource easier than ever before. Nowadays you would struggle to walk down any street, in any city and not observe people reading their smartphones and tablets intently; such has been the widespread adoption of these devices.
As the methods of content delivery changed so too did our consumption habits, traditional methods of gathering information such as newspapers and magazines suddenly found themselves in real danger of becoming redundant due to the advantages of instantaneous content delivery that the internet provides, thankfully this hasn't been the case as methods to marry the print and digital world have been pursued and put in place.
The eBook has steadily gained traction within the publishing industry; devices such as the Kindle and a wide range of tablets have greatly advanced their cause, portability and a wide range of advantages within their digital pages have further enhanced their appeal and positioned the eBook evolution as a real force to be reckoned with. eBooks offer more to the consumer than static words on a page, their advantages, which we will touch on below, are wide and varied and offer the consumer and publisher alike options which would be impossible with their printed relations.
Tools of change in the publishing world
The advantages of eBooks are many and include
• The ability to Reach your Audience on any Device
• Publish Quickly and Easily
• Portability
• Low production costs
• Environmentally friendly
• Instantaneous delivery
• Worldwide reach
• Auto Detection and Placement of Links
• Google Analytics
• SEO friendly publications and much, much more
One obvious advantage of eBooks which I haven't mentioned yet is the use of rich media within eBooks. Rich media and interactive features are part of the real beauty of eBook technology; this technology can be used to create eBooks that really come to life through animations, video and audio creating a unique, engaging experience for the end user.
Rich media within animated eBooks can encompass
• Audio clips
• Video
• Flash animations
• Web and email links
The eBook evolution is in full swing and showing no sign of abating, the very nature of the technology makes this type of content both absorbing and engaging. The consumer is offered many advantages and the reading experience in general is enhanced through these multitude of options, combine this with the issue of portability, (What would you rather, carry a kindle with a hundred books upon it or carry a hundred books?), and the reason for appeal to the consumer becomes clear, the evolution of the eBook has some way to go yet.
The publisher has to be where the eyeballs of the consumer reside and the majority of these eyeballs are trained on screens across the globe.
Here you can see great samples of eBooks created with the 3D Issue software and the video below has a brief run through of eBook samples that have been created with 3D Issue.
Will your sample be next?
If you are interested in learning how to Convert PDF to HTML5 eBook in minutes there is a further article relating to that subject here.