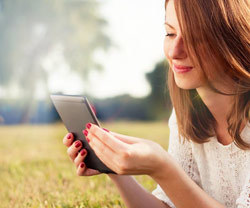 There is nothing in this world of ours that doesn't consistently evolve; books are no different in this regard, the advent of eBooks and readers has opened up a new dimension in the world of publishing. The figures involved speak for themselves; a recent report published in the Guardian outlined this theory succinctly, with a few surprise findings thrown in for good measure. In the report it found that Russia has risen from obscurity to now be revered as the world's third largest eBook market behind the US and China. According to Sergei Anuriev, CEO of LitRes, Russia's largest distributor and seller of e-books, the Russian market of electronic books is expected to reach 500 million rubles (USD $16.12 million), which is almost double that of 2012.
In a similar vein, recent research by PEW it was found that over 50% of Americans now have a dedicated handheld device–either a tablet computer like an iPad, or an e-reader such as a Kindle or Nook–for reading e-content. That figure has grown from 43% of adults who had either of those devices in September 2013. This is a market which is clearly enjoying considerable growth.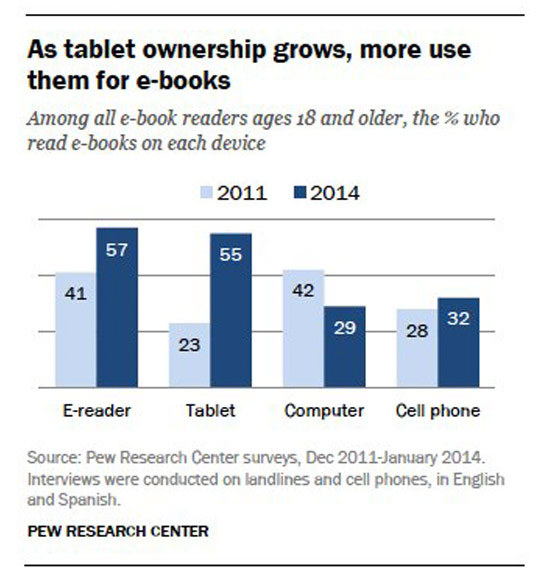 Image courtesy of Pew Research
Unexpected bonuses
EBooks and the platforms used to produce them can convert your text heavy books, course materials, regulatory documentation and manuals into ePub3 and Kindle formats. Features such as built-in text to speech synchronization that allows you to convert your material to 508 compliant publications or for creating audio books also should also be noted as the audio eBook market continues to show favorable signs of growth through the digital revolution, signs that eBook creators have been boosting literacy in other unexpected ways by fueling the explosive growth of audio books.
In an interview with the Wall Street Journal debating this very subject, "It's one of the few times in history that technology has reinvigorated an art form rather than crushing it," said Max Brooks, author of the zombie novel "World War Z," which was released in May last year ahead of the Brad Pitt movie in an elaborate new audio edition with 40 cast members, including Alan Alda, John Turturro, and Martin Scorsese. It sold 60,000 CDs and digital-audio copies. "Now, because there is such demand and the production value is so inexpensive, it opens the door for more creative storytelling." he said.
Have a look here to see how simple it is to publish an eBook & where to distribute it.
Ebooks offer many advantages to the publisher and consumer alike, lower prices, instantaneous delivery, ease of storage, the benefits of being highly portable, the supplement of additional links throughout their digital pages pertaining to the subject at hand and not forgetting the aforementioned audio and video capabilities makes this innovative medium a must for publishers worldwide.