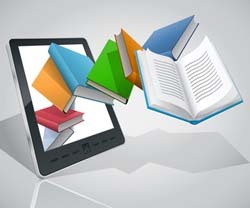 eBooks have gained significant traction since their inception. We have watched as their popularity has soared with each passing year, Kindles, eBook readers such as the Barnes and Noble Nook and the iPad combined with a surge in content consumption in general on smartphones and tablets, has aided their rapid ascent globally.
"Three in ten adults read an e-book last year; half own a tablet or e-reader" (Source)
eBooks offer many advantages to the consumer, the use of interactive features in particular can provide an altogether more engaging experience for the reader. Self-publishing is another facet of the publishing industry which has benefited from eBooks, budding authors who may have found the path to publishing their creations blocked by traditional methods have now found a new way of publishing their works to the online market. This is an area of publishing which has grown to such an extent that it now holds a healthy 12% of the market.
"Five of the top 10 eBooks on amazon.com were by self-published authors, or authors who originally published their own work." The Irish Times 22 June 2013.
eBooks now command a 30% share of the book publishing market, while this figure may not as significant as earlier eBook sales; this is mainly due to the fact that earlier years were a huge, unheralded success in eBook terms, especially for certain titles like Fifty Shades of Grey and The Hunger Games. This is not to say that eBooks growth has plateaued or anything remotely close to it, indeed the above statistic will allude to this, eBooks are continuing to grow and garner traction, just not in the same impossible to maintain, meteoric rise enjoyed in their formative years.

There are two main file types used by the major devices on the market, namely .epub and .mobi. For example if you wanted to publish your book to the Amazon Kindle you would have to ensure it was in the .mobi format, if it was for use with the Apple iPad it would have to be .epub compatible and so on. HTML 5 is another format which is an essential part of the eBook stratosphere with the widespread adoption of tablet and smartphone content consumption.
Do you have a publication you wish to transform into an eBook?
Do you need a solution which can transform your PDFs into eBooks with .mobi, .epub and HTML5 functionality?
Then why not try out the free, fully functional trial of 3D Issue today