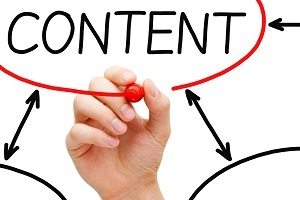 Content is one of the single most important parts of any businesses website, it is the channel that they use to convey their message, it enables them to entice the consumer with rich, relevant information and enable them to build long lasting, useful relationships with the consumer. The importance of e-marketing your content cannot be overlooked, it is sometimes the only link between you and the consumer so, as such, should be treated as if you are sitting with the consumer on a one-to-one basis to inform them about your company and the advantages of partnering up. What is it you would tell them? What is it about your company that they should know? What makes you different? What can you offer?
Once you have these fundamentals bolted down, you can start to build a relationship with your consumer, start to really understand what it is they want, why it is they came to you in the first place? How can you help and inform them further? What content and information are they really looking for? Which ways, as well as written content, can you convey this? Maybe you will use video and audio to further enrich the experience?
Traditional marketing is increasingly being closed off by the consumer, they record TV programmes enabling them to skip ad's, often ignore magazine advertising and are so adept at web surfing they barely take any notice of banner or button advertisements making them largely irrelevant. This is why content marketing has become so important in ensuring your reach to the consumer doesn't diminish. It is the main channel for communicating with your customer without actually selling, you use it to inform and educate thus enabling the consumer to decide on why your product is the one they should side with, never before has the content you create been so important.
Most organizations that deal with publishing web content are already creating their own content, by using platforms such as 3D Issue Hub you are essentially ring hooping the content and drawing traffic back to your own site. The main thing to keep on mind when creating content is to ensure beyond all doubt the content you share is both valuable and relevant. The average consumer will be inundated with informational garbage on a daily basis, you have to ensure your content makes them stop, read, think and if necessary, take action. Put yourself in their shoes and ask yourself what it is you can supply that will make them do this, what is it that they really want to know about, do this and you are halfway there in terms of building a meaningful relationship with the consumer that will pay dividends in the long run.
Most consumers will already have their mind made up whether they are going to invest in your product long before they visit your site; this is purely down to the quality of content you provide. Your content will speak for you in your advance, it is your voice in the marketing arena, it can be the difference between a consumer paying your site a visit and not. Innovative, valuable, relevant content will resonate with the consumer long after the rest has faded from the memory.
The exponential rise of online mobile usage
Mobile ownership and in particular smartphone ownership has been on the rise steadily in this last few years, estimates state that as much as 40% of your online traffic is now mobile, there isn't a business in the world that can sustain a 40% drop in their traffic so this is an avenue which should be explored carefully and catered for intrinsically. Analysts Morgan Stanley have even gone on record to state that while this new cycle is in its infancy it is still expected that mobile web browsing will, based on change and adoption habits to date, overtake desktop internet use by 2015.
It is a crucial part of any companies e-marketing strategy is to be 'mobile friendly', the figures available to us strongly suggest that if you are not easily accessible to potential consumers on mobile interfaces then you are seriously impeding any possible growth and reach that you could have.
Platforms such as 3D Issue Hub can provide you with the perfect launch pad to build your mobile marketing content from, it can be implemented without the costly, time consuming task of a total website revamp, 3D Issue Hub including has many tools that will aid you with your marketing to mobile elements such as:
* Stunning Layouts in an instant
Create, publish and share stunning online publications with these additional features.
* Build a magazine in seconds
Insert the URL location of your content and click build. It's that simple!
3D Issue Hub will then collect and format all of your content into a dynamic magazine. A 50 article feed can be produced in less than 5 seconds.
* Responsive Layouts
Allow your content to automatically adjust to suit the resolution of the device that your reader chooses to consume your content on.
3D Issue Hub dynamically checks the resolution of your readers' device and automatically formats your content to suit that resolution. No pinching or zooming, just beautifully formatted pages.
* Automatic updating
If you are using feeds, blogs or dynamic sources, you can set your magazine to update by itself.
3D Issue Hub will check your sources at a predefined date and time and then add any new content to your magazine then email you to let you know that your new responsive magazine is ready.
* Publish to any platform
As your content and your magazine is pure HTML5, it can be ported and viewed on any device.
Your magazine will automatically adapt to fit the resolutions of any desktop, laptop, tablet or smart phone device. Your content will also be able to be outputted to ePub3 and kindle formats.
This is an essential part of any approach to mobile marketing; you have to be accessible whatever the consumer decides to use to digest the content you wish to convey.
* API Ready
Integrate your apps into the core 3D Issue Hub experience with its full API suite.
3D Issue Hub's RESTFUL API exposes all of the functionality of 3D Issue Hub to all users. With this you can build your publication in any language on any platform and integrate Hubs into all of your applications. Allowing you to gather content from any source public or private as long as your applications have access to it.

* Multiple Sources
There are so many different ways you can add your content into your responsive magazine.
You can add dynamic sources such as RSS feeds, blogs or static sources such as webpage urls or even copying and pasting content via our WYSIWYG editor. If you would like multiple people contributing you can add contributors by registering their email addresses and allowing them to submit content via email.
* Customization
Customize your publication.
Personalize your magazine template around your own brand, change fonts sizes and styles, change all color palettes and icons to suit your corporate identity. Add your own front covers with custom images or dynamic galleries.
* Host your magazines
Retain your audience by integrating your curated magazine on your own website.
Once you have built your magazine, take the embedding code provided and add this to your site so all of your website traffic can benefit from viewing your content within your web portal.
* Cloud Services
Need external hosting? No problem.
Create store and manage all of your publication archives on our cloud solution. 3D Issue Hub provides a hosting service so you can securely store all of your content on our ultra-fast international network of cloud servers.
* Statistics
Avail of our real time stat engine to get live feedback on how your readers are engaging with your content.
Watch everything from how long they spend reading your magazines, to what are the area that interest each individual reader, or what types of articles have the highest efficiency and much more.
* Social Sharing
Promote your magazine throughout your social network with our easy to use social sharing tools.
Allow your readers to help increase traffic to your content by enabling them to easily customize your publications around their interests and promote your content through their social network.
All of these implements and more can set your business up to be perfectly positioned in the mobile marketing stratosphere; 3D Issue Hub can take care of all your requirements for mobile marketing without you having to change anything with your existing website.
Try 3D Issue Hub for yourself today and ensure you don't get left behind when it comes to marketing your content.