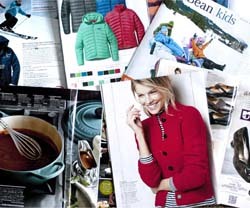 Digital marketing is the future. The era of paper has passed. But don't worry, there is a better alternative which has recently become very popular among online marketers, the e-Catalog.
An e-Catalog is a form of digital marketing for a business that provides their audience with information on the products and services they offer. It manages to capture the reader's attention in a powerful way on all devices.
There are many reasons as to why businesses are creating e-Catalogs, it allows you to interact with your customers in a more effective and faster way. It is also a great way of going green as it is very eco-friendly. But it is mostly due to the fact that e-Catalogs could increase your sales.
3 Reasons why an e-Catalog will increase your sales
1) Saves on Costs
By creating an e-Catalog your business will save on huge costs.
Not only does it allow users to receive regular updates for free with an internet connection, but it also saves you the hassle of having to print and distribute catalogs and brochures to your customers to spread the word about what your business has to offer.
You will save money on mailing, printing and distribution expenses by making your catalog available online and sending it in an email. This will allow you to spend money of your company on something that may need more attention.
2) Stronger Relationship with Customers
An e-Catalog for your company will really impress your customers and therefore increase your sales. With an e-Catalog you are providing them with a source of entertainment and leisure.
They will be able to sit back and relax while reading through your digital magazine. This provides a better company-client relationship.
You can reply much quicker to your customers through the e-Catalog. It keeps them updated on your products and will encourage them to continue buying from your business, and you can even include videos or a shopping cart feature to allow them to buy from the publication.
3) Accessibility of your Business
The e-Catalog will help you reach a larger audience, people don't have to be in your physical store to make a purchase thanks to online shopping.
Your information will be available to access internationally by anyone which will greatly increase your chance for sales.
Social media is also fantastic for your e-Catalog as it can be shared instantly with very little effort. You can share it on all your social media accounts but it also allows your customers to share your content with their friends and followers on Facebook and Twitter free of charge.
This is a great opportunity as the word can be spread about your company, driving more traffic to your site and increasing the opportunity of sales.
3D Issue's Flipbook software allows you to create your brochure, e-Catalog, magazine or e-book and can captivate your audience with interactive features and animations.
Try our 14-day free trial here.
I hope you found this blog useful, if you have any questions you can contact our team here at info@3dissue.com.
By Georgia Keys