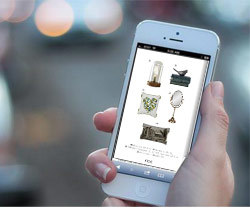 All companies and businesses rely upon the consumer knowing about their product, how will the consumer invest in your product or service if they don't know about it? Showcasing your product is everything, it is how your product will ultimately be judged, there are usually no second chances, first impressions are everything. The explosion, there's no other word for it, of smartphone and tablet usage amongst the masses means that the first place the consumer will check for services and products is online through these devices, it therefore imperative that your products and services are placed in such an environment where their wares will be showcased to the highest standard.
How do you do that?
Through an e-catalog app.
The many advantages of the e-catalog
The e-catalog offers you many advantages that are simply not possible through the traditional ink and paper method, below are just some of the advantages you can utilize in not only showcasing your product or service but also connecting with the consumer; I have included some short videos within the links for further information.
– HTML5 capabilities for mobile devices
– Low production costs
– Link to shopping cart
– Media-rich publications encompassing the power of video and audio content
– Branding throughout the publications
– Build image galleries
– Social integration and sharing options
– Fully customizable Output
– Searchable and zoomable content
– The ability to reach your audience on any device
– SEO friendly content
– Available for online and offline viewing
Create inspirational content
It is your job, as the publisher, to create content that reaches out to the consumer through the advantages of e-catalog apps outlined above. You have to make it impossible for the consumer to surf past your content, you have to create content that is so absorbing and eye catching that when the consumer is searching for a product of your ilk, your content is inspirational in terms of their end choice; your content will do the talking for you.
You have to first and foremost catch and retain the consumer's attention but also carry out the most fundamental of all the e-catalogs functions, the very reason you are in business in the first place, to sell.
To finish off today's blog we have included a video we recently put together with 11 inspirational magazine designs just in case you need to kick start the creative process.
I hope you have enjoyed today's blog and hopefully taken something of value from it for yourself and your business, as always, if you have anything you wish to add please do so in the comment box below, we would love to hear from you.