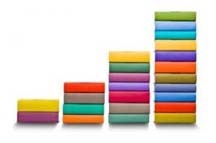 The New York Times revealed last week that, as of early 2011 they will publish best-seller e-book lists for fiction and nonfiction. They state the list will be composed from weekly data from publishers, online retailers, independent booksellers and chain bookstores.
This is further evidence of the ever increasing popularity of digital e-books that are becoming more readily available on devices including the Kindle and the iPad.
"The vibrant growth of digital publishing has created a need for an impartial, reliable source for tracking and reporting the top-selling e-books across the country," said Janet Elder, editor of News Surveys for the Times.
Information from the press release states the list will be independently verified by third party company RoyaltyShare.

The ebook market has seen remarkable growth over the last few years, particularly due to new technology and devices sweeping interest amongst readers.  A report by Forrester stated "2010 will end with $966 million in eBooks sold to consumers. By 2015, the industry will have nearly tripled to almost $3 billion, a point at which the industry will be forever altered."
Amazon are reporting significant growth with ebooks "For the top 10 best-selling books on Amazon.com, customers are choosing Kindle books over hardcover and paperback books combined at a rate of greater than two to one," said Steve Kessel, senior vice president of Amazon Kindle."
This is a significant step for literature of the future and with the The NY Times' reputation for publishing best sellers lists of print books the new list will certainly increase the awareness of the fast growing digital alternative.