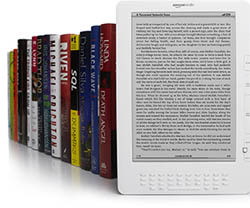 Today's blog celebrates 5 top Thanksgiving titles to keep you occupied over the Thanksgiving holidays. We have many things to be thankful for in our lives, today one thing we can be really grateful for is the fantastic digital titles that are on the market and available to download at the click of a button. Below I have outlined the editor's pick of the main 5 titles to keep you engaged over the next few days.
Sycamore Row, by John Grisham
This is No.1 in the ebook charts that you will find hard to put down. This is a gripping novel that will have you engaged from the offset.
"John Grisham's A Time to Kill is one of the most popular novels of our time. Now we return to that famous courthouse in Clanton as Jake Brigance once again finds himself embroiled in a fiercely controversial trial-a trial that will expose old racial tensions and force Ford County to confront its tortured history." Amazon.com
11/22/63 is a novel by Stephen King
This tells the story of a 35 year old high school teacher who travels back in time in order to try and save President Kennedys life. This book is over 700 pages, but worth every page. The novel is two years old but it has re-entered the charts because of the 50th anniversary of the assassination of President John F Kennedy.
"…The novel was announced on King's official site on March 2, 2011.[1] A short excerpt was released online on June 1, 2011,[2] and another excerpt was published in the October 28, 2011 issue of Entertainment Weekly[3] The novel was published on November 8, 2011,[4] and quickly became a number-one bestseller. It stayed on the list for an additional seventeen weeks." Wikipedia
Takedown Twenty- Janet Evanovich
Janet tells the story of a New Jersey bounty hunter called Stephanie Plum who is tasked with tracking down a Mob boss charged with murder. This humorous book has made me a hug Stephanie Plum fan.
"Powerhouse author Janet Evanovich's Stephanie Plum novels are "laugh-out-loud funny" (St. Louis Post-Dispatch), "brilliantly evocative" (The Denver Post), and "making trouble and winning hearts" (USAToday). Stephanie Plum has her sights set on catching a notorious mob boss. If she doesn't take him down, he may take her out." www.goodread.com

DUST- by Patricia Cornwel
The murder on the MIT campus of a computer engineers, sees the Chief Medical Examiner Kay Scarpetta being lead in unexpected directions. This book is No.2 in the ebook fiction charts.
"…forensic whiz Kay Scarpetta returns in Dust, the 21st instalment of the uber-popular series. She's the chief medical examiner and director of the Cambridge Forensic Center in Cambridge, Mass. She's just finished working the mass shooting at Sandy Hook Elementary School in Newtown, Conn., which left her "exhausted and shaken. But there's no rest for Scarpetta. The body of a grad student, draped in an unusual cloth and covered in a fine dust, is found on an athletic field on the MIT campus. Could it be the work of a deviant serial killer — "The Capitol Murderer" — who is being tracked by Scarpetta's FBI profiler husband? Or is the murder connected to a contentious lawsuit? The grad student was killed on the eve of testifying against her former money manager and his firm. And there's a link between the grad student and Scarpetta's niece, Lucy, a cyber-crime expert." Celeste Williams http://www.star-telegram.com
Diary of a wimpy kid- Hard Luck
This is the 8th instalment of the successful Diary of a wimpy kid series created by Jeff Kinney. More adolescent humour by Greg Heffley and his best friend Rowley. A must read for both young and old alike.
"Greg Heffley and his family and friends are back in Diary of a Wimpy KidBook 8, the latest installment in the #1 bestselling series by Jeff Kinney and one of the most anticipated books of 2013. A global phenomenon, the Diary of a Wimpy Kid series has more than 85 million books in print around the world. Greg Heffley's on a losing streak. His best friend, Rowley Jefferson, has ditched him, and finding new friends in middle school is proving to be a tough task. To change his fortunes, Greg decides to take a leap of faith and turn his decisions over to chance. Will a roll of the dice turn things around, or is Greg's life destined to be just another hard-luck story. "www.goodread.com
Happy Thanksgiving and happy reading to you all!