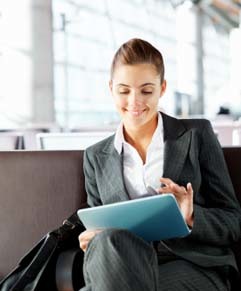 Throughout this blog we will take a look at the latest devices that people use for viewing their digital content. As the future is filled with the upcoming sophisticated technology, the use of portable tablets and handheld android devices would overtake the PC's and desktops.
More and more people would prefer portable devices for their day to day life style; employers would make use of these easily adaptable and convenient devices in their work places to carry out their daily tasks. Travellers would use their android phones to get to destination and find routes. People would no longer sit in front of their PC to search or view something; they would prefer the convenience of their handheld devices or the Ipad which would allow them to browse something anywhere at any time.
As to compete with the upcoming range of varied specification of tablets, androids etc, windows have launched their new windows 8, they have changed the way desktops used to work adding touch screen features and a number of other feature in, check out here.
Why tablets instead of Pc? They have longer battery life when compared to any PC and will continue to be better at that than any ultrathin/book or laptop, which makes them very handy for carrying around and using frequently and casually along with touch-first interfaces, voice input and motion gestures. They're even better for sharing and working in groups and theirs is no barrier of a vertical screen, no distracting keyboard clatter. Check out the estimate sales of tablets predication by 2016 here.

The decline of the desktop isn't surprising, but what's surprising is how the markets of tablet sales keep on getting bigger and bigger. Check out the predication here. According to the article from the guardian.co.uk a total of 375m tablets will be sold globally and 760m already in use by 2016. The estimate is that there will be 2bn PCs in use by 2016, despite the growing sales of tablets; it will only partially take over PCs. This could be that some employees or people would still prefer the advantage of conventional PCs for any intensely creative work at a desk that requires a large display or significant processing power.
The article also states that the wide variety of devices, features and software support, plus inconsistent support for OS upgrades, is fragmenting that the Android ecosystem will result in a decline by 2015, even with the continued success of Android smartphones.", at this stage it would be harder to focus, which are the leading and which will stay on as the market leader in the coming future.
By 3D Issue