If you are considering going digital, some of the key questions are: is it profitable? and when is the right time to make the move?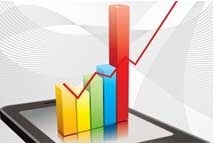 This blog analyses some recent statistics from the digital publishing industry and what lends itself to what the future might bring to the digital sector.
According to the Financial Channel link here, digital publishing offers a brighter future for magazines and newspapers as the rising adoption of tablets, smartphones and e-readers point to a favourable business climate for publishers of digital newspapers and magazines, as well as for other stakeholders in the publishing industry.
Although newspaper and magazine publishers are encouraged by the positive trends; their biggest challenge remains monetizing digital content.
The financial reports on the current performance of digital Vs. print publishing and its future impact in the revenue for the sector:
– In the US, tablet users will number 133.5 million by 2015, representing 51.9% of internet users and 41% of the total population. This is an increase from 69.6 million in 2012, a tally equivalent to 29.1% of internet users and 22% of the total population

– US newspaper print ad revenues are expected to drop significantly in the coming years, slipping to $16.4 billion in 2016 from $19.14 billion in 2012. Digital revenues, which include all digital platforms, will edge up to $4 billion from $3.4 billion, so they will not cover losses from print
– The US magazine industry is in better shape but still faces hurdles. Print ad revenues will drop marginally to $15.10 billion in 2016 from $15.19 billion in 2012. In the same period, digital ad revenues will grow to $4.08 billion from $3.14 billion. As eMarketer Inc. reported, this means a slight net gain in total magazine ad revenue to $19.18 billion in 2016, up from $18.33 in 2012.
In summary, the statistics indicate a positive outcome for digital publications and as a result it can be a wise move not only to increase revenue but also to provide your current and prospect readers with the possibility to access your publication in a new and engaging way through a digital experience.
If you need are planning to go digital, e-mail us for more information at sales@3dissue.com
By 3D Issue