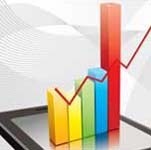 According to China Economic Net as outlined by this Article, we can see statistics where the annual revenue of China's digital publishing in 2011 reached 137.788 billion Yuan, which is up to 31 per cent when compared with 2010, the level of paper books being read is 56.69 per cent whilst online reading is at 32.06 per cent in china.
The total output value of Shanghai's digital publishing industry in 2011 was as high as 27.8 billion Yuan, increasing by 26.36 per cent year on year with 54 enterprises in Shanghai providing online publishing services. The Chinese are most appreciative of ease of distribution via internet, mobile, desktops etc. noting that the paper publication doesn't have any of these advantages.
China has more than 68 million users of mobile devices were 21 million are paid users. About 90 per cent of China's publishers produce digital publications. According to this Article from Pacific Pump, Among the 40 newspapers questioned in the national survey, 30 publishers have their online editions and 22 have their mobile newspapers sent via text messages.

The article also states that the smart city construction will promote an R&D plan with sophiscated multimedia digital publishing trend and build Shanghai into a digital publishing leading in terms of volume, output value, and concentration.
Shanghai intend to establish 3 to 5 leading digital publishing enterprises that have an annual output value of 2 billion Yuan, and promote 1 or 2 digital publishing events that would have high international popularity and great industrial influence, to gain digital publishing industry output value of 60 billion Yuan.
By 3D Issue