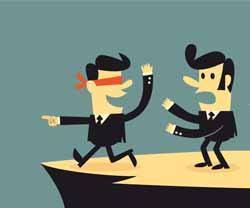 There is a wide variety of publishing options available for marketers who want to sell their product online and almost every writer is running to join the digital publishing world if they haven't done so already.
Both marketers and writers need to be aware of the mistakes to avoid when it comes online marketing.
The Main Digital Publishing Mistakes to Avoid
1. Lack of Research
You are encouraged to be creative. That doesn't mean you have to over complicate your life, do not make it hard on your audience to understand what points you are trying to get across or for your reader to engage with your content. You are creating digital publishing in order to satisfy your costumers, so write content that they want to hear. Research your target market and try to meet the consumer's needs.
This also includes SEO. Do not forget after publishing your online magazine or Flipbook to use keywords in order to boost its ranking. However, don't overuse keywords or your content could be considered spam. Research and use phrases and terms specific to your content.
2. No Engagement with Readers
A mistake that is very common among businesses once they have published their flipbook is to forget making the customers aware of it. Create a plan and send out posts on social media and emails reminding your audience that your new publication is ready.
Be careful though, when new publications are released, some companies tend to put too much emphasis on it, this can annoy your audience causing them to unfollow or unsubscribe. You have to find a balance between both as you do not want to overwhelm your customers.
Another recurring problem is not understanding your readers. This can be a result of a lack of research. The best way to really engage with your readers is to consider what it takes for your content to interest them, evaluate what you are doing right and wrong and take action based on that.
3. Incorrect Use of Investment
Unfortunately your business is going to have to give to receive. A lot of work, a lot of time and money goes into running a business. But digital publishing is a great way to put your company out there.
Sometimes businesses can invest too much too fast, thinking it will get them there quicker, but that is not always the case. It is quite a gradual process.
Another mistake to avoid would be not investing in the right area of your digital publishing. The success of digital publishing depends on a content first strategy, invest in the story and editing before looking at sound or multimedia.
Your content should be strong on its own or your publishing will not get any recognition and it will not sell your service or product. After that, enhance it, make it appealing.
If you are looking for new ways to captivate your readers through digital publishing try 3D Issue Flipbooks, Hubs or the App platform.
Our team of experts can help you create effective digital publications and track their performance. These products will also allow your audience to access all your content in one place.
By Georgia Keys