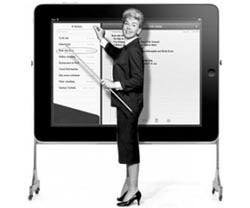 Digital publishing has become easier for educational institutions all over the world and has greatly enhanced the elearning experience. It has helped in the area of student recruitment with the ability to create more interactive viewbooks and digital prospectus publications and to personalise the content they are sending out to new students. Digital publishing has also helped faculty members to reach their students wherever they are, on whatever device they prefer.
•  Multi-media rich notes: Faculty members can build upon the investment of time and effort that has gone into the preparation of course material in the past. With those documents available in pdf format, the teacher can enhance the material further with the addition of multimedia, embedding video and audio into the notes. This allows the teacher to deliver more engaging content using movement and sound. Interactive learning leads to better retention.
•  Multi-platform accessibility: With media-rich content created, it can then be published across various different devices, reaching the students on their desktops, their tablets or their mobile phones. Many digital publishers solutions have content apps available which will allow the student to download the material and read it offline, perhaps on their way home from college on the train or on the bus home for the holidays.
•  Social Sharing with friends: Students can access the notes easily on their preferred device and work with them on-line or off-line. Many students will work together in study groups, so it is important that digital publications can be shared using their preferred social platforms, namely Google, Facebook and Twitter. Course notes can even be accessed through Facebook pages using a Facebook App.

Digital Pubishing solution 3D Issue EDU has helped hundreds of educational institutes all over the world. Publication output is available in flash, html5, Ios apps, Android apps, Facbook apps as well as ebook reader outputs of EPUB3 and .mobi. With its easy-to-use interface and free training material, teachers were productive in very little time. "Not only is it an extremely easy and intuitive program, but the output is completely customizable and the result is a sleek, gorgeous product," said Steve Geringer of Yale School of Engineering and Applied Sciences. Why not download now try it out for free for 14 days?

By Linda Daly