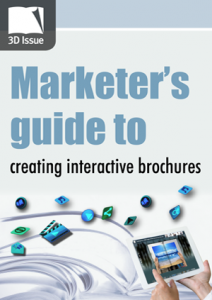 If you are a Marketer looking for some tips and advice or to generally learn a bit more about digital publishing, then we have a new free e-book just for you.
3D Issue speak with a number of marketers across the world in many different sectors. These marketers may have current brochures and newsletters that they are looking to move into a digital format, or may be looking at creating a new digital marketing campaign. Whether you are a beginner or simply wish to learn a bit more about digital publishing for marketing purposes then this guide can assist.
What the e-book covers:
– Why are marketers moving to digital?
– What marketing content can be digitzed?
– Top digital features for marketers
– Useful resources.

You can download the Marketer's guide to creating interactive brochures here.
By 3D Issue