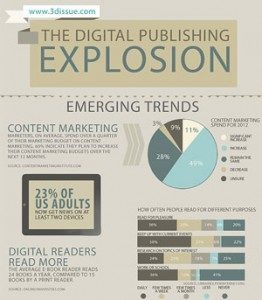 'Publishing Online: The Digital Publishing Explosion' infographic highlights some of the key trends and predictions in digital publishing. It's been a fast changing environment in recent years with many developments and this looks set to continue.
The infographic contains details of when key events and launches of digital publishing devices, how marketers are budgeting for content marketing, reading habits for different purposes and why marketers are moving towards digital.
The infographic can be shared on your site too, simply use the embed code at the foot of the image and you can share with your followers and readers. Enjoy.

Embed This Image On Your Site (copy code below):