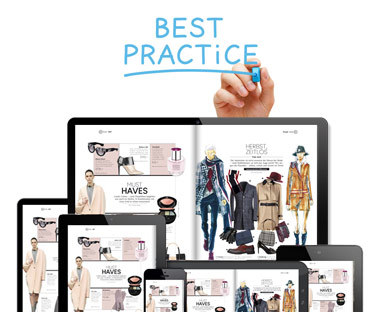 In this blog we will outline a small number of best practise procedures to help you guarantee your digital publication is in tip top condition for all of your readers.
Keep text to the point, videos relevant, and only add web links that will offer the reader valuable further information. Never bombard readers with a multitude of your content or the sites you are trying to promote. You can quickly create a feeling of spam if you overcrowd in this way. Minimalist considered design, with elements which only add value are strongly advised. Ask for feedback from someone outside your team, by gaining as many viewpoints as possible you can see how your publication is communicating. Welcome constructive criticism and make changes based on the research and analysis you carry out.
The need to optimize your publication for ease of access is due to circumstances like if someone is viewing from an old computer with an outdated operation system. Also Internet speeds differ widely throughout the world, location to location you should strive to achieve an optimum speed for the majority of your audience, while still giving the minority an enjoyable experience also. You may be creating and testing digital editions from a fast WiFi connection, so it would be advised to also test your online edition in varying places to ensure you get a feel for the range of reader experience you are about to deliver.
While adding a selection of interactive elements will make your magazine stand out from the crowd, remember to following best practises for the file sizes that will ensure your publication runs well. There are certain media features that may cause your publication to increase significantly in size. We advise you create a balance of content and speed to deliver the best results. When adding video ensure they are optimized for web and are under 15mb in size. Now if you feel your publication is taking too long to load you can check these factors. With some little adjustments to your settings your publications can be much quicker to load.
Don't hesitate, start employing best practise improvements today and carry through to every future digital publication you create.
By Audrey Henry