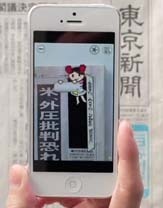 There is great excitement amongst digital publishers with the introduction of a new app with a huge potential to improve digital readership.  Thus, the BBC.CO.UK reports that an 'An augmented-reality app that translates grown-up newspapers for children has been developed in Japan'.
A combination of media and publicity skills were at the heart of the creation of the new app software; developed by Tokio Shimbun – one of the biggest daily titles and the advertising firm Dentsu.
How does the AR news software work?
The AR 'allows children to hold a smartphone over the newspaper to see a child-friendly version of the text'. As a result, the kids will be provided with the kind of information that captures the interest of adults but presented in such a way that it can actually inspire the younger generation to read more, through an engaging content.

Which promotional tools are they using to reach the children with their product offering?
The creators of the new app have launched a promotional video to introduce the product to the parents, aiming to provoke new thoughts regarding the importance of newspaper reading for their children. The slogan used in their publicity campaign was cleverly put together to transform the perceptions on newspaper reading. Their message is that 'If newspapers became readable to children, they will contribute to family communication and child's education'
Can this new app possibly create a new audience for the newspaper sector?
According to Paul Bradshaw, university lecturer and blogger on new technology in journalism, 'there is an enormous potential in providing two versions of the content – a grown up one and a kids one'
Undoubtedly, this new app is an impressive development. However, there some questions still to be answered …Could the AR news software mark the start of a new era in newspaper readership?
Is it the subject that generates the interest of the reader or is it the way content is presented?
If successful, we can expect more developments in other areas to include appropriate versions for this promising audience – the children.