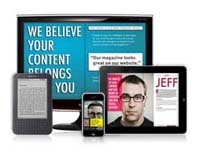 iBooks, ePubs, digital magazines…what does it all mean and what are the differences? This is a question we are frequently asked, there are now a growing number of terms being used around digital publishing, which if you are looking at publishing your content into a digital form could be confusing to know which option and or route is best for you.
Here we are putting together 3 blog posts that will quickly run through the key digital publishing basics of files, formats, devices and considerations. This first one covers the differences in the output formats of your digital publications.
1. Online Publication (browser viewed)
Online or web based digital magazines are created so that the end reader views the publication via a web browser. The actual file output  format will usually be Flash or HTML5 or both. So your digital publication can then be launched via a link on your website or by simply sending the reader a link to the online location.
2. Web App
These are great for iPad readers for example, a web App would be a HTML5 digital publication, which can be launched from a iPhone or iPad home screen. The web App is then the digital magazine – without the browser toolbars, url bar etc.. Check out this quick video which shows a good example of a digital magazine web app.
3. Native App
A native Apple App would be a digital magazine that must be submitted first to the App Store, then once approved readers could download via the App Store. These native Apps are specific to certain devices that have access to the App store.
4. eReader formats
Often referred to as eBooks, these publications are either in .epub or .mobi. These files are fore eReader devices such as the Kindle, Sony eReader and can also be imported into Apple iBooks. These publications tend to contain less media rich (videos, animations, audio etc..) than online digital magazines.

See also:
– Digital Publications – Part 2 Beginners guide to devices
– Digital Publications – Part 3 Beginners guide to digital publishing considerations
By 3D Issue