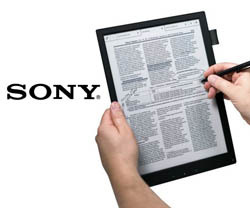 We are constantly talking about how the world we live in has become mobile, how everyone carries a tablet, a smartphone or an e-book everywhere and anywhere. Well, Sony has just unveiled a new Digital Paper Tablet which I will tell you about in today's blog.
Sony's new mobile device with an A4-sized E-ink screen and a thickness of 30 sheets of paper and uses a new type of display called Mobius. Built on plastic it allows the device to be twice as light as its glass counterparts. However, the main advantage of this digital paper isn't its big, wide screen, its flyweight or its 3 week long-lasting battery, it's the fact that it allows the user to write directly on the document that is being displayed using the gadget's stylus. This new and revolutionary feature could be as Bob Nell, director of Sony's Digital Paper solutions said "a true replacement for the vast amounts of paper that continue to clutter many offices and institutions".
It seems too good to be true doesn't it? Well, as you already know "not all that glitters is gold" and the major drawback of this sleek new device is that it will be released at a price of 1.100$ which by the way isn't without controversy.
In any case, the fact that a company as powerful as Sony is investing such an amount of time, money and effort in developing new digital tablets (their next step seems to be to create a digital paper tablet with a flexible screen), should give you an idea about the extent of the digtital world's influence.

That's the reason why you as a marketer must consider not only to be online, but to extend your business to your consumers "pockets" (I mean that literally) so that whenever the consumer wants to access your content you can provide them not only with the best, more accurate, interesting and relevant information but also with a seamless experience that will leave your clients with a great feeling of satisfaction.
With the 3D Issue software you will be able to create a digital publication. It can have the newest and most powerful rich media features such as audio or video, which can be displayed on whatever device your readers choose to read it on an iPad, iPhone, Android… and all in just a few minutes.
You can't ignore the fact that the world is online. So why don't you try the free, fully functional trial of 3D Issue today?