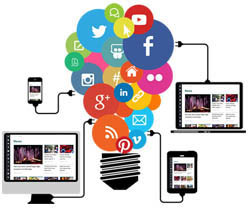 Digital media marketing was at the forefront of the majority of businesses thinking in 2013, 2014 promises to be no different. In today's blog we will examine the latest digital media marketing trends and also look at some of the trends that are just around the corner. I hope you enjoy it.
• Content curation – the sheer volume of information online is one of the internet's main strength, it is also one its drawbacks. On average, companies use 13 different online platforms to promote and engage with their readers but don't have a single location where their audience can access that content. 3D Issue Content Hubs allows you to centralize all your content into responsive mobile applications instantly.
• Video marketing will continue to grow – The fact that video sharing will command 55% of all web traffic by 2016, alluded to the forecast that the demand for video will triple by the same date and that mobile video traffic will also see an increase eighteen fold by 2016 since 2011 all points towards the recent surge in video sharing being one of the hottest facets of content marketing this year.
• Social media diversification – social media is still growing but in a diverse manner, social media is no longer restricted solely to Facebook and Twitter. Platforms such as Pinterest, Google + and Instagram have become more popular than ever and an integral part of many consumers daily lives. In 2013, as many as 93% of marketers said that they used social media for their businesses. Businesses have to establish and maintain a presence on social media sites to maintain contact with the consumer and to continue to build their brand.
• Responsive design – It is estimated that by the end of 2012 there was 2.1 billion mobile web active mobile-broadband subscriptions in the world. That is 29.5 percent of the global population accessing the web from their mobile phones. It is further estimated that by 2014 mobile internet will surpass desktop internet usage. Couple this with an average increase of 40% per year for mobile broadband subscriptions over the last three years and you start to get a clearer picture of the behemoth in our midst. Your content simply must be responsive to gain traction in the modern world.
• Mobile centricity – One last and fairly obvious point, but one which surprisingly hasn't been embraced by all companies involved in digital media marketing is the ability to publish to any platform, this is absolutely crucial in this content anywhere, anytime world we inhabit. You can have the highest quality content in the world but if it isn't mobile centric then you are going to lose a sizeable portion of your potential traffic from the off.
Interested in a platform that can enhance your digital media marketing campaign with the points highlighted above?
Then try out Content Hubs today.