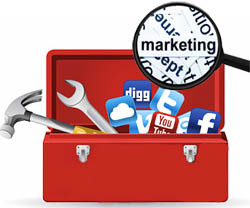 Chances are if you asked most people where would be the first place they would search for a business or service, a fairly high percentage would answer 'the internet'. This is a reflection of just how much the world has changed in just a few short years. This seismic shift in communications, whilst beneficial to pretty much everyone has meant that businesses and to a certain extent individuals, have had to change their online marketing efforts. The way your business is found and the way your consumers communicate has changed, it then stands to reason then that the marketing methods you employ will have to change in tandem.
Read more on Content Marketing in 2014 – what to expect here.
In today's blog we will look at some of the best digital marketing toolkits available on the market and analyze how they can help your business prosper within the digital environment.
Read more on Digital Marketing in 2013 – The Year in Review here.
Here, in no particular order are our top ten digital marketing kits,
Marketo – a well-established marketing automation company, specializing in launching and managing marketing campaigns. Capabilities include automating inbound marketing, social media marketing, sales management dashboards, analytics and lead management
3D Issue – 3D Issue specializes in page flip e-book and digital publications, the software is used across a wide variety of industries. This year's Super bowl program was constructed for online consumption using 3D Issue. The software, which utilizes HTML 5 abilities, allows the user to integrate Google analytics and employs a litany of features including media rich capabilities which enable the inclusion of video and audio within their digital publications. Users also have the option of creating their own apps.
The company has recently released a new product within the 3D Issue tool called Content Hubs. This digital marketing tool enables businesses to centralize their marketing content in one location with a branded hub, all with the added bonus of requiring no coding. This exciting new product has many features too numerous to list but notably it does include the ability to publish to any platform, personalization options, auto-updating and responsive design capabilities to name but a few.
Considering that over 40% of web traffic is now mobile this is an essential tool for any company to have within their armory.
Sailthru – The New York City based company offers its clients Smart Data solutions which can carry out automated decisions based on user activity across client websites, email and mobile applications.
Hubspot – The Massachusetts based company develops and markets a software-as –a-service product for inbound marketing. The software includes features for social media marketing, email marketing, lead management and web analytics amongst others.
Yesware – Yesware is an email platform aimed towards salespeople that allows them to manage and track their emails and enable them to monitor and close deals easier. The software tracks email opens, also offering customizable templates and CRM integration.
Mailchimp – aimed at marking marketing campaigns easier through the customization of emails, features include analytics, A/B testing and geo-targeting as well as spam filter diagnostics. A hugely popular service with over 3.5 million users who send over 4 billion mails monthly.
Localvox – Another New York based company which focuses its efforts towards local, social and mobile marketing for business, aiding them in generating news leading to increased engagement with local consumers through mobile, social media, email newsletters and search options.
Vocus – Vocus is a cloud-based marketing software which helps businesses market their services through social media monitoring and engagement. The software is available in seven languages and they also specialize in search marketing, email marketing and PR.
Thrivehive – a service aimed at smaller businesses providing them with the tools required to excel within the field of marketing, services include marketing consultation and SEO optimization, the company also offer marketing plans tailored to the clients individual needs.
Act-On – another cloud based marketing solution makes our list, offered as a subscription based solution for converting leads, integrating marketing efforts into sales systems and organizing marketing campaigns.
Read more on Cross Platform Content Marketing Initiatives for 2014 here.
Why not try out Hubs and also the free fully functional trial of our flipbook software today and enhance your company's digital marketing reach and potential.