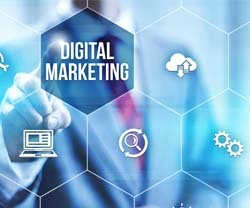 Being in charge of your own online business can be a challenge. What you have to ask yourself is do you have a clearly defined digital marketing strategy?
Digital marketing is a fantastic way of creating an online presence and helping potential customers interact with your business. But in order to be successful, your business needs a tactic or strategy when it comes to marketing online. Without one, your business is just there on the internet lost among thousands of pages and not increasing the number of customers and viewers.
Here are 4 easy ways to implement digital marketing strategies:
1) Analysing
The most important thing to do when it comes to digital marketing is to think about the main objective for your business. What do you want to achieve through digital marketing?
Analyse your previous successes and failures, learn from your mistakes. This will help you focus on what you need to achieve. Analyse your competitors' strengths and weaknesses, maybe you can learn a little from them.
2) Plan of Action
Now that you have evaluated your business, it's time to get creative. Brainstorm with your team for different ideas. Do you need to hire more people to achieve what you're looking for? You could start a blog to spread awareness about your business.
Even try sticking to a budget, that budget should be realistic to coincide with your goals.
3) Know your Audience
What you also have to consider is your target audience. What do they see on your site that would lead them to you in the first place? You have to know who they are and what they're looking for.
Make the layout of your site as user friendly as possible and if you are blogging pick a time to publish when your target audience is online.
Remember that you're speaking to potential customers, don't get too carried away as your marketing strategies should satisfy them.
4) Get active on Social Media
According to this source nearly 2.1 billion people have social media accounts. Social media marketing is the perfect way to increase your brand recognition.
Social media is so important for businesses because it makes you more accessible for new customers and brings more opportunities for potential customers to come across your business.
This is a quick, easy and not to mention free way to interact and even increase traffic to your site. You'll be surprised at the power of social media and what it can do for you.
You can even have all your social media in one place for your customers with the help of a 3D Issue Hub.
A hub allows your audience to access all your content in one place. This includes news from blogs, Facebook, Twitter, videos and images. It also auto updates, so you don't have to worry about doing it yourself. You can try a free 14-day free trial here.
If you found this blog helpful, or would like to find out more about the hub platform you can get in contact with us here at info@3dissue.com.
By Georgia Keys