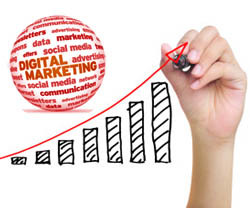 If there were any lingering doubts within your mind about the legitimacy of the world's transition to digital, then today they can be dispelled with the latest figures in relation to digital marketing budgets for 2014. In a report entitled 'Marketing Budgets Report 2014' compiled by Econsultancy/Responsys there were numerous findings which were encouraging to the industry but also heralded some surprising statistics. In the report that surveyed over 600 client-side marketers and agencies within Econsultancy's extended community, it was found that that over 60% of those client-side respondents planned on increasing their overall marketing budget for the year ahead, this reflects a rise from 54% the previous year. Just one of the expected changes of marketing in 2014.
Encouraging numbers indeed.
If we delve a little deeper into the figures a whole new story comes to light. When the figures were dissected to ascertain exactly what portion was being allocated to digital, 71% of respondents intimated they intended on increasing their spending in this area. This figure only tells part of the story. A quite staggering finding is the fact that this number hasn't changed since 2009. Given the seismic changes within the digital landscape since 2009, this figure is even more exasperating.
What best describes your plans for your overall marketing budget in 2014? source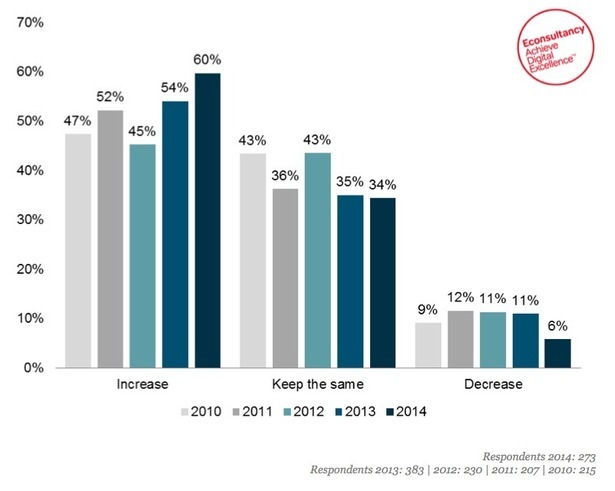 So why is this?
To put this into perspective, we have to take a look at the complete picture, since 2009 there have been major strides within the digital stratosphere, why then has this figure stagnated? Why have digital marketing budgets not grown in tandem with the very growth of the industry itself? Surely with the world at large going digital it makes perfect sense to concentrate your efforts on this, the most affluent of areas? Have marketers somewhat missed the bus here? What affect will mobile and cross-platform usage have on marketing in 2014?
By how much are you going to increase your digital marketing budget in 2014? Source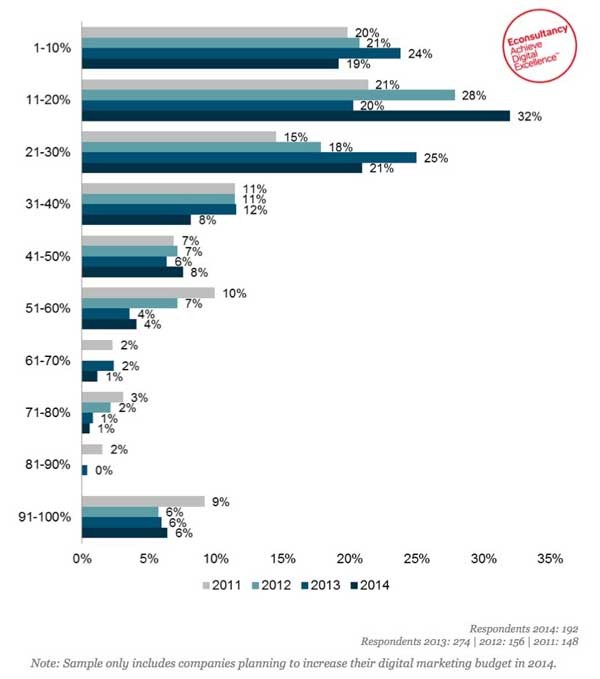 Think about it this way, in January of 2009 Facebook had 150 million users, today that figure stands at over 1.1 billion. In 2009 Twitter had over six million users in the US, today that figure has swollen to over 49 million users. In 2009 apps such as Snapchat, Instagram and Flipboard were not even in the digital stratosphere. Sites such as Wanelo and Pinterest had yet to get off the ground; I think you see where I am going with this.
There has been major changes and growth within the digital industry in a relatively short space of time but businesses haven't adjusted their approach accordingly. The expeditious rate at which smartphones and tablets are being adopted and utilized only further compounds this growth. It is only now that they are truly beginning to see the benefits of the online community, better late than never I suppose!
The digital arena is vast, maybe the biggest market we have ever known, and it is growing at a supersonic rate, for businesses not to be involved in this colossal realm is verging on the ridiculous. Businesses and companies simply have to have a presence online, not only that, they have to utilize it to leverage any opportunities that it will undoubtedly bring their way. The old adage, 'if you're not in you can't win' has never been more pertinent.
Try the free fully functional trial of 3D Issue and Hubs today.
Establish and maintain your online presence whilst ensuring your business is not left in the digital slipstream.