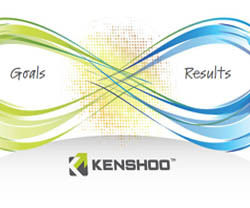 Kenshoo, the global software company which specializes in predictive media optimization technology and cloud-based marketing solutions has launched a prototype of its mobile application of entitled Kenshoo Anywhere . Kenshoo Anywhere provides reporting dashboards and alerting mechanisms for online advertising campaigns, the app enables Kenshoo clients to avail of easy access to vital information through custom reporting dashboards with the ability to view performance reports across various digital marketing assets and metrics. All through the clients smartphone ensuring they are kept up to date with all the latest moves and reports from the market.
"We are always looking for ways to maximize the value of our client's digital marketing investments and improve the performance of our team. Having quick, easy access to client campaign activity against goals is invaluable for both our executive team and our managers alike," said Jorie Waterman, Head of Performance Channels at eBay Enterprise. "Being able to monitor pacing against goals across our portfolio of clients from any location and instantly send reports and adjustments to the team makes this possible."
The beauty of Kenshoo Anywhere is that marketers can analyze campaign data and identify opportunities, all while on the move. The innovative software company recently carried out a case study in conjunction with eBay enterprise which demonstrated an 80% return on investment for eco-friendly jewelry retailer, Alex and Ani through Kenshoo Social Demand-Driven Campaigns. The software automatically reacted to signals from paid search, Product Listing Ads and merchant inventory feeds by creating Facebook adverts based on this information.
The result? An unprecedented rise in revenue of over x 44 .
"Advertising competition continues to heat up and Kenshoo is always looking for ways to innovate and help our clients win," said Israel David, SVP Technology at Kenshoo. "With Kenshoo Anywhere, our clients can monitor campaigns any time, any place, and take advantage of our cross-channel algos and automation to get a leg up."
Kenshoo themselves have a long history of innovative digital marketing technology solutions, this latest foray into the mobile platform further consolidates the absolute need for companies to center their approach towards a mobile first strategy. Kenshoo is the only Facebook strategic Preferred Marketing Developer with native API solutions for ads across Google, Bing, Yahoo, Baidu, Twitter, Facebook, Facebook Exchange, and SDK for Mobile Measurement. Brands, agencies and developers use Kenshoo Search, Kenshoo Social, Kenshoo Local and Kenshoo SmartPath to direct more than $200 billion in annualized online client sales revenue through the platform.
With campaigns running in more than 190 countries for nearly half the Fortune 50 and all 10 top global ad agency networks, Kenshoo clients include CareerBuilder, Expedia, Facebook, Havas Digital, iREP, John Lewis, KAYAK, Omnicom Media Group, Resolution Media, Sears, Starcom MediaVest Group, Tesco, Travelocity, Walgreens, and Zappos. Kenshoo has more than 22 international locations and is backed by Sequoia Capital, Arts Alliance, and Tenaya Capital. Source
The new Kenshoo mobile app extends this market-leading technology to advertisers anywhere, anytime, furthering their already considerable reach. Kenshoo Anywhere is now available to select marketers in limited beta release and will be accessible for all Kenshoo clients through the Apple iPhone app store in the second quarter of 2014.
In today's digitally driven world, businesses have to be available through mobile; there is a wide range of statistics to verify this stance.
Over 40% of your web traffic is now through mobile channels, this is a section of your business and marketing that demands respect and due attention.
Give it the respect and attention it deserves by integrating it with Hubs and ensure your content is available across all devices, maximizing your content, and your businesses reach.