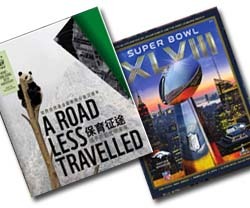 Digital publishing is something we have become quite accustomed to in recent years whether you realize it or not, digital content surrounds nigh on our every move, every time you use a smartphone, tablet, Kindle or PC to connect to the internet you are digesting digital content. This is no passing fad; this change in communications is here to stay. If anything it is set to evolve even more. Anyone involved in publishing of any kind has to be aware of the seismic changes that have taken place, and continue to transpire within the industry.
We'll conduct a quick experiment here, how many of you reading this have read something online in the past 24 hours? (I realize you that by reading this you are reading online but apart from this post!). Think how often you consume content through your smartphone and tablet, I'd hazard a guess to say that if you sat down and wrote down every time you had consumed a piece of online content in the past week you may be surprised by the regularity with which you are online and how it influences your day to day lives.
Businesses and publishers are only too aware of the mass migration towards the online arena; there are very few corners of the world the internet does not reach and by result is a channel which has accelerated through business plans the world over, quite simply every business and publisher has to have an online presence in a world that is increasingly online.
The beauty of digital magazines
Digital magazines should not be looked at as only an extension of their printed counterparts, they offer many advantages to the business and consumer alike, the business can avail of such features as;
• Analytics Tracking
• The ability to evolve in time with technology
• Rich Media
• Customization Options
• Support
Read more on Magazine Layout Software Must Haves here.
The digital magazine can create a compelling, interactive, engaging experience for the consumer when utilized to its capabilities; although offering a multitude of options for the publishers they still share some common traits with the traditional magazine or publication. In order for your digital magazine to get its message across in the way that you intended, you can follow some simple rules when assembling your digital magazine template.

• Ensure your template is linear and finite. Don't encourage your readers to wander.
• Use the technology to provide more frequent periodic content.
• Maintain the quality of curation for your digital product.
• Magazines are collectible. Digitize your back issues.
• Print magazines are not easily searchable. Make sure your digital content is.
• Your publication should be available across platforms
Read 5 Things to Remember in your Digital Publishing Strategy here.
Communication technology is constantly evolving and changing, in only a few short years the way we receive, consume and share content has changed beyond recognition. This trend is set to continue for the foreseeable future. Digital publishers have to ensure that the techniques they use are not only current but have one eye on developing trends. Publishers have to continually adapt and pivot their approach to match current trends and consumer behavior. No one know what the future may hold but one thing is for sure, changes will unfold in how the written word and digital content is consumed, distributed and received, new technologies and techniques will present different methods to locate and extract high quality content, publishers have to be ready.
Read more about Digital Magazine Advertising Rates here.
All of the features I have spoken of today are available through the 3D Issue software; the software is available on a free, fully functional trial, each and every single feature is available.
You can view samples of digital magazines created with the 3D issue software including the Super Bowl program and much more here.
Why not have a look, it is completely free to trial and the ability to create digital publications with full interactive features will be yours to sample and experience and, perhaps more importantly, gauge how it can transform your content into content that will resonate and encourage engagement from those, the most important of all groups, the consumer themselves.