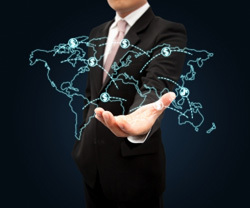 Digital magazine publishing can create revenue opportunities without the need to solely rely on the usual online advertising strategies.
Advertisers are aware of the fact that at least one third of their display ads are not seen by the average visitor. Banner ads appear below the fold and can be removed by ad blockers. They may not even load before the visitor leaves the page.
That's why the digital magazine reader base is becoming more important than ever. Here are some creative ideas that can make your digital presence worth your while.
Sponsoring live events increases brand recognition
Viewer's enthusiasm and readiness to buy are probably the two main factors why live events are good for business. You can either sponsor an already existing live event in your industry or create one on your own.
In both cases you can use your digital magazine promotional channels to spread the word about the live event. This gives you the opportunity to increase your list of digital magazine subscribers while providing third party content that will engage your potential readers.
Listings attract readers
Listings drive web traffic, simple as that. After you manage to get the attention of your perfect customer persona, it's a good practice to add valuable content that will keep your readers base coming back.
By doing this you're adding a revenue stream to your toolset, while managing to increase the number of readers of your digital magazine. Good example of this practice is MediaBistro where in average 1000 listings can lead up to $3.8 million in revenue.
Subscription bundles provide value
It's highly possible you run both a website hub and a digital magazine where you can promote "premium" content. If you're able to do this, it's not a bad time to start thinking about bundles. Just make sure your general content is of high quality as well, so it will give your reader a good reason to purchase your premium subscription.
When a digital magazine and online hub bundle is properly set up, there is a high probability your loyal reader will go all in and purchase the highest priced package.
Put everything in an eBook
Till now you've built a great little micro cosmos where your readers get valuable information from all of your digital publishing channels, but what's the topic they're most interested in?
By answering this question you can get an idea about an eBook in which you can compile all of your previously released content that got most of the attention of your readers. This will allow you to add a revenue stream based on something you've already created and it has been tested among your readership.
Easiest way to deliver
Managing a digital magazine can be a hard and time consumptive task. When you think about all the content you need to produce and at the same time be able to successfully promote it to your readers in a quality manner, it may seem as an impossible mission.
That's why automation is necessary and what a better way to do this than by using 3DIssue's Digital Publishing Suite where you can not only organize your digital magazine, but create an online hub accompanied by eBooks, flipbooks and much more as well.
Image courtesy of suphakit73 at FreeDigitalPhotos.net