The 3D Issue software is incredibly distinctive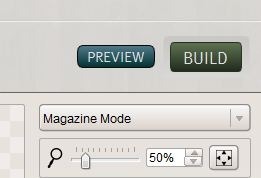 and user friendly enabling you to create your own digital editions in minutes. With a wide variety of magazine publishing tools and an integrated 'publish' feature you can publish your digital issues for use on your website without ever leaving the software.
Throughout this blog, we will talk about the different magazine publishing tools available within the 3D Issue professional version that would prove to be beneficial while creating your digital publication:-
– 3D Issue professional lets you reach your audience on any device that allows you to convert your PDFs into digital editions which can be viewed on PC, Mac, Netbooks, Tablets, iPads, iPhones, Kindles and other e-readers.
– 3D Issue allows you to create digital publication for both HTML5 as well as flash. This enables users on iPhones, iPads, Android and mobile devices to view your publication and get their very best digital experience.
– The e-Reader output option allows you to create 'eBooks' for Kindle, Nook and iBooks.
– Bring your digital publications to life by adding rich media features like embedded web links, email links, video (including YouTube videos), audio and flash objects that enrich the reader experience.
– 3D Issue lets you create a DVD or USB of your digital editions to distribute at different events or hand to customers.
– 3D Issue lets you customise the look and feel of both the skin and interactive features by choosing from your preferred colours, background, sounds, visual page transitions and button controls.
– 3D Issue lets you easily amend your digital edition by adding/removing or replacing pages without starting the project from the beginning.
– 3D Issue Professional version enables your readers to browse through a graphical library of previous or related digital editions through the archive feature.
– The In-built SEO feature allows you to create multiple SEO profiles where you can customise the page title, description and keywords.
– There is also an in-built FTP up loader that's lets you to upload directly to the web location you specify.



– 3D Issue automatically detects any web or email links from your original pdf(s) (whether these are embedded links or simply typed links) and then places these live links in your digital edition.
– 3D Issue lets you specify how many pages should load at once through the load controller which is a great feature for larger publications such as catalogues as it minimizes the time taken to load.
– Readers can use the search facility feature to explore the e-book finding relevant key words or phrases.
– The notes or the bookmark option lets the readers to highlight or bookmark for future reference.
– The share feature allows you to share the digital publication amongst friends and colleagues via social networks including Facebook and Twitter or via email.
– iPad or app icon lets iPad and iPhone users can add an app icon to their home screen for easy access and launch of your digital editions.
By 3D Issue