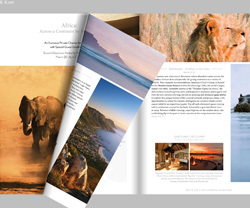 The widespread adoption rates of smartphone and tablets has made an online strategy a necessity for businesses and forms the basis of today's blog where we will look easy ways to convert your publications into digital magazines complete with interactive features. It is vital to reshape the digital marketing strategies you use to incorporate new elements which are currently becoming more relevant for the target market based on its particular characteristics, needs and wants and use the digital tools available to respond proactively.

Many businesses will have access to a plethora of printed literature and content but may be unsure how to translate this to the online marketplace. In the past year alone, mobile advertising expenditure had grown a mammoth 77%, this was up from 9% of total internet advertising to 15%, resulting in a $14 billion dollar spend in this rapidly evolving segment. It's clear the world is online through the stratospheric adoption and usage rates of smartphones and tablets; this will form the basis of today's blog where I will briefly outline how easy it is to set up your own digital magazine and how to convert your existing static PDF's you may have used for print publications in the past. You can find further information about digital magazine advantages here and also Flipbook Creation Tips for Marketing Success here. In seven simple steps you can have your very own digital publication complete with interactive features and analytical metrics. Step 1. Go to the free, fully functional trial of 3D Issue
Step 2. After opening the 3D Issue software you will be asked whether you wish to create a new publication or open an existing one, for the purpose of this blog you will be creating a new publication.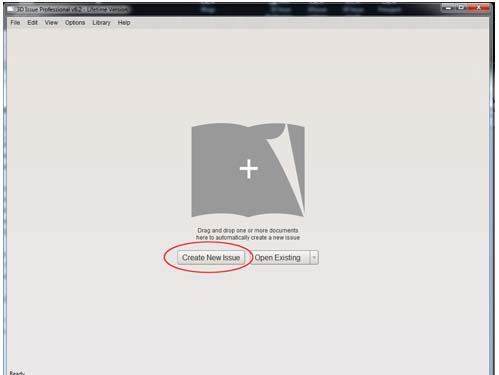 Step 3. You will then be asked to choose the location of the files that you wish to upload, choose the location of the PDF's that you should have saved in advance and then press ok. NOTE: 3D Issue uses PDF's to assemble your flipbook, these PDFs are the same as the ones that you would normally use for printed literature so if you have something in particular you wish to assemble, either use existing PDFs or create new ones.
Step 4. You will then be presented with a screen that looks something like the screenshot below; there are three main options within this screen shot 1. Template 2. Profile 3. Add, remove and remove all which are highlighted below. Add – will allow for the addition of a new PDF file. Remove – will take one away. Remove all – will clear the list of PDF files allowing for the import of new files. This is a pragmatic feature in the software which used correctly can allow for a swift change of content.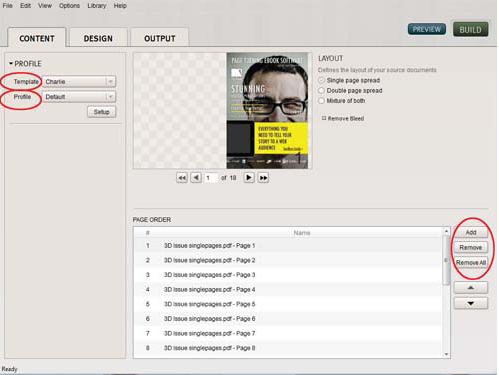 Step 5. Arrange the order of your pages by using the page order arrows highlighted below
Step 6 – Layout The layout section of the Content tab allows for the preview of the PDFs prior to any additional functionality being added to the publication. It has four options.
Step 7 – Single Page Spread – Double page Spread – Mixture of Both This option allows the content creator to specify where the 'fold' or 'crease' in the publication is to go much the same as you where you would find the staple in a hard copy magazine at the center fold. The convenient preview window in the Content tab of the software allows for a preview of the publication to ensure that the correct pages are in place and the 'digital fold' is in the correct location. Your publication is now ready to publish! View sample magazines assembled using the 3D Issue software here.