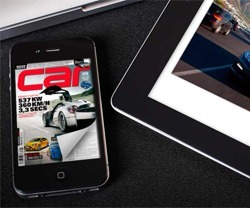 With Apps now totally over 1.5 million on both the Apple and Android App stores, creating and capitalising on their success is a key priority of businesses all around the world. With this in mind, here are some common myths that keep coming up:
Its so expensive!
Creating a digital magazine app can cost as little as $99 a month. Allowing you to pay monthly without huge set up fees make it an accessible option for even small businesses.
You need to be able to code
Creating your own app is now actually very straight forward and does not require specialist coding skills. In fact at 3D Issue most of our users are in non technical roles.
Building an App is a lengthy process
If you have content already then your App can be built in minutes! The 3D Issue App centralizes your content and pulls in content from existing sources so you can get your App on the screens of your readers …fast!
If you build it, they will come!
Just because you have a digital magazine App does not mean users will instantly run to download it. The creation of the app is one area, marketing the app and directing people to the app is vital as is keeping the app maintained with fresh and compelling content.
You can now see how easy it is to create your own digital magazine app with the 3D Issue App platform trial.
If you have any questions you can send an email to info@3dissue.com and a member of our team will get in touch with you.
By Hannah Kelly