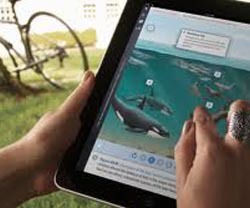 Here are 5 easy steps to enable you to create digital education solutions that can be accessed via the web, using mobile or tablet devices. To begin, download the 14 day free trial of 3D Issue EDU.
Step 1: Start with a PDF
Use 3D Issue to create a new publication by opening your exiting pdf document within the software. The software will automatically detect any links to other pages, weblinks or email addresses within the document, making them live links.
Step 2: Measure with SEO
Edit your profile within the software to allow you apply your preferred college branding to the material. Also modify the profile to integrate with your existing Google Analytics so you can measure what articles are read most. Adding your analytics ID will enable statistic reporting. If you choose to publish from within the software then set up the details of domain where you will host the material.
Step 3: Enrich with material with multimedia
Move to the second tab, illustrated above and use the Interactive menu options to add flash, add video files or audio files to your material. MP3 files work best for audio and MP4 files work best for video. The files can be YouTube or server based, they can be embedded in the material or viewed in full screen mode. Add weblinks , comments buttons and information buttons throughout the material.  Have links highlighted as hotspots, with audio cues or not, or have them as buttons which you have designed. Add more new pages to the material if needed. Define the custom preloader. Modify the table of contents with any new material you have added.
Step 4: Enable User Controls
You decide what the reader can do with your material, you can modify the reader controls using simple check boxes. Allow them to share through social networks, allow them to print, to access your library of publications linking to material you may have created for other courses. Let them download it and read it offline, maybe in the coffee shop or on the bus. It's your material, you decide.

Step 5: Select your output format and publish
Several options available to you here. For online reading they can view it in flash or html5 output. Html5 is essential for the mobile reader. For offline reading you will need the apps – desktop, ios for iphone and ipads, android, facebook apps. You can recreate the newly enhanced pdf document with your new modifications. If the material is heavily text oriented then output in ebook reader formats such as epub3 or .mobi for the Kindle. Check a box to upload your files and build the publication.
L earn how to create great interactive education material for the mobile and tablet audience today, download 3D Issue for free and view step-by-step video tutorials to get started.
By Linda Daly