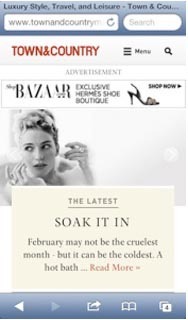 Digital editions can be enhanced through a wide range of interactive tools available in the digital publishing sector. Nevertheless, most publishers are faced with the challenge of keeping the novelty factor alive through a fresh look; revamping the digital editions regularly to amaze their target readers.
According to this article, Hearst Digital Media has done just that – the company's titles (including Cosmopolitan, Popular Mechanics, Good Housekeeping, and Esquire) are getting a whole new look! The article reports that 'Hearst is revamping all of its online magazines with a responsive and personalized design'. The vice president of the company describes this change as a switch to a new publishing platform, which incorporates both responsive design and personalization.
What is responsive design?
Techcrunch.com explains that responsive design is 'an increasingly popular strategy for companies to adapt to mobile by creating websites that rearrange themselves based on the size of the screen'.
What kind of benefit can you get from the responsive design technology?
One of the main benefits provided by this technological development is the possibility to provide your readers with the highest standard of presentation regardless of the device they are using.
What is the personalization strategy based on?
The personalization strategy of the company consists of using different ads to target different audience segments. Thus, one of the company's techniques to personalize  involves  'showing a different set recommended content links to different readers of the same article, depending on factors like their location, what device they're using, and how they came to the current page'.
Revamping your digital edition can be done in simple stages; based on an insightful analysis of your target audience. Thus, it is essential to have a clear understanding of the needs and wants of your target readers to respond to them pro-actively. Your efforts to provide your readers with new and engaging offerings can be highly rewarded by your digital audience. For more tips and ideas on adding new features to enhance your digital editions, visit our resource section and download a free guide.