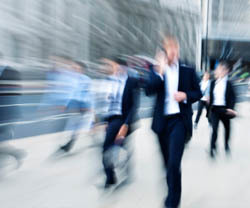 It is in no way an exaggeration to say that the world at large has gone mobile. The adoption rates, penetration and overall influence the smartphone now has on millions of lives across the world, all accrued in a relatively short time, is nothing short of remarkable.
A recent survey by O2 for the Irish market revealed some interesting statistics in relation to this subject; it found that in the 18 – 34 year old category, a whopping 78% of users regarded their smartphone as the most important screen in their lives, far exceeding any other device.
Read more on the importance of content migration to your mobile strategy here.
The same survey also highlighted a facet of consumer content digestion which is often overlooked, that facet is the amount of time people spend watching TV whilst simultaneously using their smartphone. The survey by O2 also found that the same 18-34 age bracket were only taking in a limited amount of the TV content on offer as 57% of them were watching content on their phones at the same time.
The below statistics by Super Monitoring provides some interesting reading…
• 91% of all people on earth have a mobile phone
• 56% of people own a smart phone
• 50% of mobile phone users, use mobile as their primary Internet source
• 80% of time on mobile is spent inside apps
• 72% of tablet owners purchase online from their tablets each week
Interesting stats I think you will agree and ones that are supplemented figures supplied by Mobile Cause below who state.
• 91% of adults in the US own a mobile phone
• 61% of mobile phone users own a smartphone
• 50% of email is opened on a smartphone
• 65% of social media activity occurs on a smartphone
• 51% of internet searches occur on a smartphone
• 99% of text messages will be read
The below info graphic by ICEF monitor is a great example of the direction digital content is taking with some intriguing facts and figures.

I think you will agree the statistics and infographic further highlight the absolute necessity of providing mobile friendly content. The figures are there in black and white, the question then must be asked, why have more publishers not shifted their focus to accommodate this ever burgeoning market? This market is simply going to continue to grow and expand; surely publishers have to at least be reactive if they haven't been proactive in their approach to this shift in digital content consumption?
Read more on the evolution of mobile content here.
There is a very real danger of the publishing industry being left stranded by the huge consumer behavioral shift that has unfolded before our very eyes. The industry was caught out with the original shift to digital and while many publishers have shifted their focus and approach to cater for this gargantuan market, there remain many who, for whatever reason do not see the iceberg on the horizon. This failure to recognize what has become a world-wide phenomenon is reminiscent of a similar lack of foresight in the music industry over a decade ago.
Read more on the mobile popular content types here.
Make no mistake; this is a market which is continuing to grow at an exponential rate. Publishers across the board have to move with the times and realize that in order for their publications and content to be successful their approach has to be focused mobile centricity. I'm not saying that they should have PDF's replicas of their digital content; this simply won't do and will be reflected by the numbers who swiftly move on from such antiquated content delivery. Your layouts have to liquid and your approach in general to be centered on mobile friendly content; to fail to do this is to fail to see what is happening before your eyes.
Read more the importance of liquid layouts to your mobile web content here.
Try out Hubs today and transform your content into data that can be viewed and consumed on whatever device the consumer is using. Ensure your content reaches its optimum level and is seen by as many eyeballs as possible, try Hubs now.