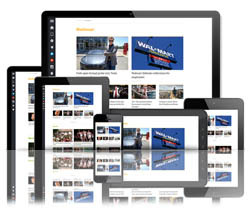 It is a fair assessment to say that the digital age has touched our lives in one way or another. The advent of the internet, the explosion of digital channels widely available and continuous advancements in technology have all contributed to major changes in brands approaches to marketing. In today's digitally driven society, a high percentage of people have a smartphone and or tablet and an even higher percentage have a mobile phone. Connected devices and the influence they yield within our day to day lives grow with each passing day.
Marketing methods have evolved alongside the digital revolution. Everything is enhanced, everything is mobile. Brands now have the ability to reach the consumer on a scale which has never been witnessed before. Digital communication has enabled brands reach the consumer directly, companies can avail of various methods of digital communication such as;
• Location based marketing campaigns – Although this technology is already present on marketer's radars, 2014 should be the year that we see the approach to location based content stepped up a notch. Businesses will utilize this form of marketing increasingly taking advantage of the ability to target consumers with multi-media content based on their location using GPS technology within their smartphones. The fact that one in 5 people in the world now own a smartphone, it looks very likely that this area will receive some much deserved attention.
• Brands as publishers – We are now at a stage where brand publishing has overtaken traditional methods of advertising. Brands are now required to be ever more creative in order to acquire our attention; brand publishing is the intersection of storytelling, advertising and technology. It is a reflection on how technological advances in communication and the devices we use to pursue information has changed brands and companies approaches in this field.
• Digital newsletters – Amidst all the options available to us, newsletters remain one of the most cost effective and fruitful methods of reaching out to your target market. They have boundless potential when utilized in the correct manner, there is no better way of conveying useful information that the consumer will find relevant and helpful and thus encourage further engagement.
• Online catalogs that can be used to shop directly – convert your content into an online publication that encourages the consumer to browse, locate and purchase while simultaneously supplying an inspiring shopping experience. One of the true beauties of online catalogs is the availability of interactive features, what better way to truly experience something you have been reading about than to have it accompanied by audio or video? If a picture is worth a thousand words; how many for a video?
• Digital brochures with rich media – Rich media could be a video to watch or an audio track to listen to or perhaps a combination of both, rich media is designed to stimulate the senses; it could be an advert that responds when you roll your cursor over it, rich media can encompass many elements of communication. Rich media is rich in every sense, it is text but it is so much more than just text, it can be an amalgamation of the senses through visual and audio components endowed with interactive overtures. Quite simply put, it can reach heights that solitary text would struggle achieve. The integration of tools such as Google analytics are a major bonus in this field.
• Cross channel promotion – This is critical in today's connected world, tablets and smartphones in particular have literally exploded into our lives, they are everywhere, take a look around you, I guarantee you will see someone staring intently at their phone, happily tapping and scrolling away. Make no mistake the world is online and the numbers who are connected are rising every day. You have to be accessible to this audience; their numbers are now such that they now outweigh traditional sources of connectivity such as the PC.
• Video and audio – Video enriches any publication within which it resides; in terms of content sharing, video is truly one of the internet's strengths. In an earlier blog I covered the many advantages that video offers backed up with statistics and figures, but for the purpose of today's blog we are going to concentrate on how to create an e-catalog enhanced by video and the capabilities and qualities it undoubtedly brings to the table.
• Social media integration – Social media has positioned itself as a strong platform from which to share and distribute your content, Google + has accrued a huge number of users in the past year, somewhere in the region of 500 million + users are now registered with Google + putting it behind only Facebook in terms of monthly users and on a par with Twitter. (Figures quoted that Google + have over 300 million active monthly users opposed to Facebook's gargantuan 1.15 billion).
Is it time your marketing content was enhanced with the advantages presented by digital technology?
Then why not try out the free, fully functional trial of 3D Issue and transform your marketing through digital communication.
If you have any questions or would like some more information simply contact info@3dissue.com.