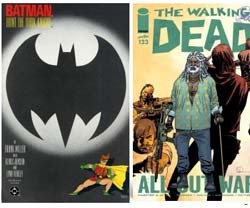 Amazon has just announced that it will be acquiring Comixology. ComiXology, for those of you who are unaware of their identity, are a leading digital comic platform responsible for the sale of more than 4 billion pages of comics in 2013 alone, it comes as no surprise that Amazon have had cause to sit up and took notice of this powerhouse of digital magazines and comics.
ComiXology, which was founded in 2007, has had to date, over 200 million comics downloaded from its platform with a selection of over 50, 000 titles available from more than 75 publishers. It also enjoys the weighty accolade of being the highest grossing non-game iPad app in 2012 and 2013; the lure for Amazon to become involved becomes clearer with each passing sentence.
Comixology's role within the transition of the medium from print to digital comic's cannot be understated, this is the platform responsible for merging major comic publishers of the stature of DC and Marvel within their digital publishing ranks. This deal looks like a win-win for both parties; Amazon is buying into a realm of digital publishing where relationships with all the major comic publishers are already well established. The added bonus of having a direct line to the distribution tie-ins for the blockbuster movie franchises such as Spiderman, X men etc. which have enjoyed considerable commercial success in their latest ventures, also being viewed as a very attractive part of the deal.
For comiXology themselves, this deal could herald them with the very real opportunity to take comiXology to the next level and bring themselves (and their comics) to a much wider audience. It also allows comiXology the chance to realize a long held ambition, their self-professed "crazy goal" of turning everyone on the planet into a comic reader "more possible than ever before."
"ComiXology's mission is to spread the love of comics and graphic novels in all forms," David Steinberger, the company's co-founder and CEO, said in the release. "There is no better home for comiXology than Amazon to see this vision through. Working together, we look to accelerate a new age for comic books and graphic novels."

"Amazon and comiXology share a passion for reinventing reading in a digital world," David Naggar, Amazon VP of content acquisition and independent publishing, said in a statement. "We've long admired the passion comiXology brings to changing the way we buy and read comics and graphic novels. We look forward to investing in the business, growing the team, and together, bringing comics and graphic novels to even more readers."
"ComiXology will retain its identity as an Amazon subsidiary and we're not anywhere near done 'taking comics further,'" the letter continued. "We've only just begun." In a separate statement, Amazon's VP of content acquisition and independent publishing David Naggar said that the two companies "share a passion for reinventing reading in a digital world."
Digital publishing is enjoying an upward trajectory; this purchase by Amazon further consolidates and reinforces this trend which is becoming ever dominant in the publishing world. Today's publishers simply have to be catering for the online audience as well as through traditional channels. Online publishing is where the eyeballs; and the revenue that goes with it, will continue to be found.
Have you got a strategy in place to aid the transition of your publications to the online domain?
Why not try out the free, fully functional trial of 3D Issue and see for yourself how easy and seamless the whole process can be.
You have nothing to lose and everything to gain, why not try out the free trial now.