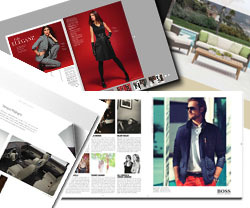 The catalog has been a staple publication in most homes for over a century now. The catalog as we know it first made an appearance in 1872; this was when Montgomery Ward from Illinois, Chicago, mailed the first catalog, a one page catalog, to rural shoppers.
Since then the catalog has went from strength to strength outliving many other types of communication methods, like everything though it has had to move with the times. The internet has revolutionized the way we view, receive and send content so it comes as no surprise that the catalog is the latest medium to adapt to the online world. The internet has changed everything in terms of content delivery, the discovery of content is now instantaneous, information is but a click away and now catalogs are benefitting from the technological advances offered by the widespread reach of the internet.
The benefits of a digital catalog publishing strategy are numerous and varied; their strengths lie in their constant availability and online accessibility, some of their unique features include:
• Flexible content, change as you need to
• The inclusion of quick jump links
• Catalog Linking to your other publications
• Promotion of your catalog through social channels
• Cost effective
• Highly searchable content through the use of links
• Measurable through Google analytics
• Continuously working – online, available anywhere, anytime
• Embed photo galleries and slideshows
• Product demos through the use of video
• Shopping Cart
A video outlining how to include the shopping cart feature within your e-catalog can be viewed below
The below video outlines how to add video to your publication and further enhance your e-catalog which in turn will create a richer end user experience for the consumer, not only will this encourage the consumer to use your e-catalog in the future, but it will further enhance your brand and establish your business as a leader in its field.

Read more about how to How to Create a Mobile Catalog App Using 3D Issue here
The ability to engage and sell with consumers on the other side of the planet is now only a click away, whereas before such a proposition would have been littered with potential pitfalls, the connectivity now offered to us by the world wide web has made such transactions more commonplace to the point that E-commerce is rapidly becoming a dominant force in world trading, sales in this sector are growing by more than 19% per year and is expected to top $140 trillion by 2015 (source)
Read more about how to Create Catalog for Online Viewing here
According to Kurt Salmon who has compiled a new survey entitled "A global retail consultancy" More than half of online shoppers said they browse catalogs and almost one-third of people making an Internet purchase have a catalog on hand when they purchase online. A whopping 86% of the survey's respondents bought an item after first seeing it in a catalog, anyone who is producing a printed catalog is already halfway to having a digital edition, not to do so in today's online world would be a tad negligent to say the least.