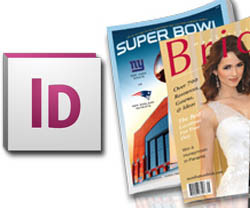 Good magazine design is imperative right from the off, it is crucial to the success of your magazine. In this blog I will summarize a few of the steps you can utilize by using Adobe Indesign to create the Templates, Layouts, and Master Documents involved in the creation of your magazine.
Prior to putting the steps of this tutorial into practice, I urge you to consider a few aspects about design, what type of design is you like? What catches your eye? What kind of design inspires you to create in the first place? What type of design attracts your attention the most? You could go into a bookstore and cast your eye over the plethora of magazines available and the multitude of designs they employ. Decide which of them appeals to you the most; which one jumps out and says 'me!!', I'm the one? Think of the flow of the layout and particular design trends. Ask yourself if this will correlate with the magazine you are creating and if the design will suit the industry your magazine will focus on.
Look at the competition and the leaders in this sector, learn from them what they do well and possibly even learn from what they don't. Please ensure you have researched this fully, encompassing both the physical nature of the magazines and their online effectiveness. Check out how the competition creates dynamic e-magazines and issues; examine how they enhance the publications using interactive features as publishers usually create both print and digital versions of the magazine using Abobe Indesign. Once you have a comprehensive idea of what you would like to achieve, once you have a firm design trend in your mind, then you can proceed to Indesign.
Start off by selecting 'New Document' here you can select the page size and the number of pages your magazine will have. Whatever page count you end up with you have to ensure it is an even number. In the tab illustrated below you can chose the values for columns, margins and bleed.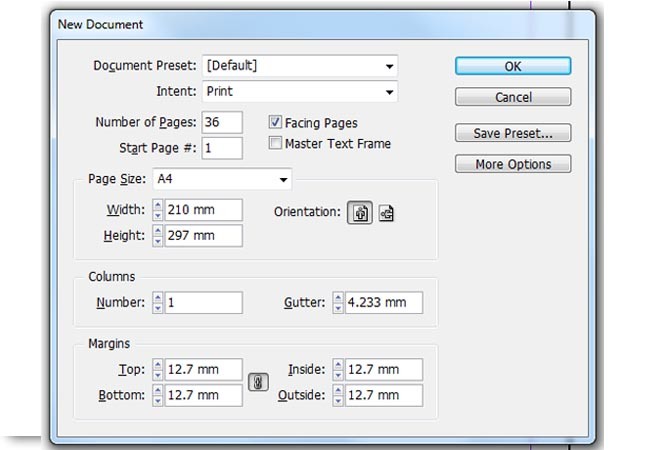 Once you have created these values, you will then be furnished with a view of all the thumbnails related to each individual page that will be situated to the right of your screen, from here you can see what is  going on each page with ease, this view will include both the front and back covers. From this view it is easy to move pages around as the need may arise during the process of designing your magazine.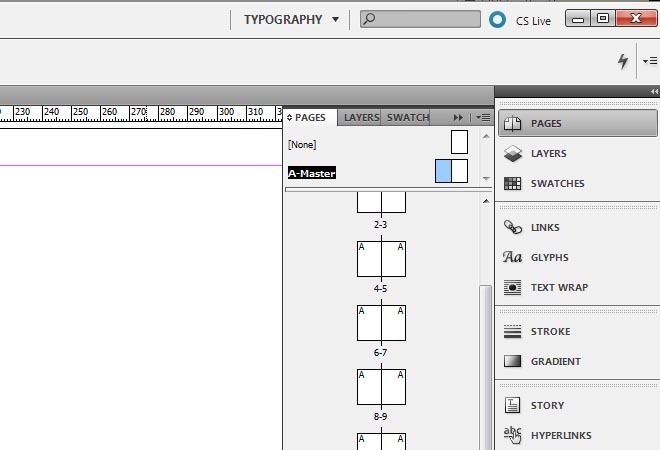 Now, to that other important part of magazines, content! The columns are a great method to keep your selections uniform. As you add text boxes and images and content, the columns ensure that the alignments are kept uniform throughout the layout of the entire magazine. This leads on to another important feature we can create in Indesign, the Master page.  The master page can be used to quickly add items such as page numbers, logos, headers or footers to all pages in your InDesign document. If you make changes to an item on a master page, that change will be automatically applied to all of the other pages throughout the publication.
You can create how you want this to look, even add an image, it is here you will decide on the fundamentals in terms of the font and design as these will be repeated throughout the entire magazine, accordingly the page number will also update on each page. The advantage of this feature is the basis of your layout will already be in place, leaving you to fine tune the design elements that will make each page individual. You can add extra pages to any section at any point and the page numbers will adjust automatically to suit, these features save you an extraordinary amount of time and effort and are well worth versing yourself with. Your design when saved will appear on each page of your magazine, with the added option of hiding it from certain pages when the need arises, an example of such times when this could be applied could be on the front and back covers.
Once the initial setup work is done, future magazines will be a lot easier to produce as you can work off the same template as your original magazine. This template is vital, say, if for example you have a monthly publication; you don't want to sit down every month and start your design from scratch. By utilising these templates your base design will always be there and all you will have to do is make subtle changes to the colors, fonts, images and of course content!
To see some inspiring e-magazines please click here.
By Audrey Henry