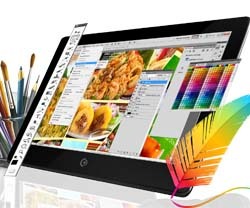 Designing a digital magazine is similar to designing a print magazine.
The difference is that by going digital you're providing your business with a whole new interactive world that will provide your users with a more active experience.
With digital publishing your business has the ability to engage and connect with consumers everywhere. It offers you many opportunities to reach and ultimately sell to a wider audience, an audience that wouldn't have been available to you traditionally.
With this in mind you may be wondering how to approach the designing of your online publications. After all, it's not the same to publish for a limited amount of people or to publish globally. The devices they use or what they consider a standard feature in a digital publication may differ.
That's why you need to have a clear vision of what kind of publications you want to offer and study and research which would the best approach to sell your product or service.
Today almost any kind of print publication can be converted to digital. If you already have the PDF of your print magazine or catalog, you have 90% of the job done. The only thing you have left is input the PDFs into the digital publishing software of your choice and start creating your publications. Once you've done that you can start adding the interactive features including audio, video, zooming, image galleries, page flipping etc.
The reality is that the expectations of your customers are changing and your marketing techniques need to meet their standards if you really want to connect with them effectively.
The best way to do so is by educating yourself not only on what your market is looking for but also on the basic principles of online design. Research and take the time to look at your competitions publications or even the top global brands to get the inspiration for a good design.
You can also hire a professional to help. You can contact our team today for expert advice on how to get started (info@3dissue.com)
But even if you decide to hire a professional you'll still need to have an idea of what you want your publications to look like.
With the right talent, creativity and software the possibilities are endless.
Here are a few online publishing ideas to keep in mind when you are designing:
1. Visual
Background image – When publishing online is better to add high quality graphics and text to really catch the user's attention. Pay attention to the size of the files though, find the sweet spot between image size and performance.
Visual e-commerce through images, videos and audio clips will really enrich the viewer's experience and dramatically increase the likelihood of them shopping. Shoppers rely on the audio and visual experience to decide if they want to make a purchase.
2. Layout
You should ensure that your publications have a clear and attractive layout, so your readers can access your information without effort.
3. Navigation
An intuitive and quick navigation is also very important to engage your audience. If the user can't navigate their way through your publications they will leave. Adding thumbnails or a table of contents for example will help your readers find what they are looking for.
4. Embedding
As I've mentioned before people are attracted by images and visual things. User's love to see videos, in fact they almost always expect to see a video in each and every digital publication these days. You can include the video on the opening page of the publication on auto start, or later on in an ad or product description. You can even create a slideshow, a very effective way to show off your products.
5. Add your company logo
Branding is important to all businesses. The design and placement of your company logo in your publications will affect your customer's opinion of your business. Design your logo professionally and consider color schemes. By taking the time to have an effective color scheme you will give off a good, professional impression.
6. Mobile friendly design
The world is not only online but online and mobile. You could lose millions of potential readers if you design for just one device. Your publications should be suitable to be viewed on all devices, especially mobile.
7. Usability
Simplicity when it comes to usability goes a long way. Let your publication speak for itself. A good publication that is easily navigated and well laid out will be more effective than a cluttered and overloaded one.
8. Contact information
Is your contact information clear to see? Include features that a customer would need for the site to be easily accessible. Include calls to action such as ''contact us'' to encourage customers to get in touch, this will show your customers you want to hear from them and build a relationship with them.
Plan and prepare future publications, always have in mind what could be next.
These are just a few of our design ideas, if you're interested in designing and publishing your own digital publications with all the features we've just mentioned and more, you can start with 3D Issue's free 14 days trial now.
By Georgia Keys