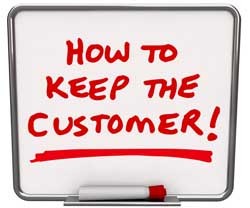 When building a business, one of the first things people do nowadays is create a powerful website that is effective in attracting visitors.
Once that's done, the next step is to convert those visitors into customers. However, many businesses tend to forget about the following step, making those customers come back and keep buying.
This often forgotten step is really important for the overall revenue of a company. Take into account that on average a new customer costs to a company 5 times as much than a returning one.
With that in mind your main goal is to reduce to the minimum the amount of people who buy once and never return.
Although customer retention strategies can be very industry specific, there are a few common basics that can be applied to every business.
Don't forget though, that knowing as much as possible about your customer base and their needs is what will help you take the best approach to keep your customers engaged.
Here are some effective customer retention strategies you can easily combine with your current marketing and content promotion plan.
Support Your Offer with Active Communities
Those who bought your product or service once, were obviously able to recognize the value of what you have to offer. No need for you to explain that again.
Now what you need to do is start working on building a relationship with them so they become advocates of your brand.
Create a Facebook page where you share tips and tricks about your industry and your product. Share new information that could be of use to your customers and encourage them to comment and participate on the conversations. Never forget to reply to their messages either if they have questions.
Shared knowledge
Active communities are extremely good at showing how much people love your product, what's working for them, what's not, and which are the things you should be improving.
The level of knowledge shared on them is usually pretty high, and you could be surprised to discover new uses of your product that you didn't even know about.
In order to encourage people to share their experiences and thoughts, show them that you are listening by including some of their improvement suggestions to your products and by replying and participating inside the community.
You could even set a reward program for the most useful post.
Another usually well-accepted option is to give away freebies and exclusive discounts to the members of your community.
Keep Improving
Nowadays almost every market is dynamic, is changing all the time with new competitors and ideas entering it.
Find new angles and possibilities, keep a close eye on your competition and their strategies and listen to your audience and your current customers. They know better than anyone which your strong and weak points are.
Try new strategies, don't be afraid of changes, but never forget to do your research first.
Improve your products and services constantly and maintain high standards. That way your current customers will keep seeing value in your brand and products.
Expand Your Reach
Having a strong and active community is a great advantage over your direct competition, and can help you keep your business growing.
But when your community is too broad it could get difficult to manage all the content that is published on different channels.
It could be hard for you and for your customers to keep up with your news on Facebook, twitter, your blog, your YouTube channel etc. especially if your content is not the same on all of them.
If that's your case considering having a hub could be your best option. A hub lets you gather all your online content in just one place.
This technology has been proven to make wonders when it comes to engaging customers and the general audience whenever the content is valuable.
Hubs are easy to share, to navigate and they hardly need maintenance. You can try creating yours here.
Now it's time for you to put these strategies into practice!
If you have any questions email us at info@3dissue.com