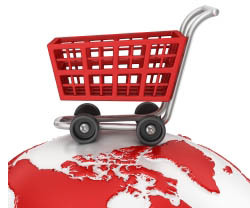 The world of communications has changed beyond recognition in recent years, the world as a whole has become an intimately more accessible place due to the advancements in technology and how they enable us to interact. Whilst it is easy to become accustomed to the way we utilize technology and communicate with each other it wasn't always this simple. In years gone by if a member of your family or friends moved to a faraway country you would have to rely on letter that would take an eternity to get there or else expensive long distance calls that usually meant the caller/recipient having to keep unsociable hours just to maintain contact.
Times have changed and so too have the methods of communication we now use.
Maintaining relationships has become altogether easier, the internet has revolutionized communications in ways that has enriched our lives and enabled us to instantly connect with anyone, anywhere in the world. Some may lament the loss of the personal touch, the handwritten letter, the personal call and this is understandable but when you flip the coin and weigh up the pros and cons of both sides then today's communication has many qualities that we have never had access to before. Miss the personal phone call? What about Skyping and actually seeing the person, seeing their children and how they have grown, being able to talk face to face? Not only this but you can use Skype to actually make phone calls between two devices that have the application, all this at a much cheaper rate than traditional phone calls.
The same counter argument can be made between email and letters, there will always be something unique about the handwritten letter but would you trade this for near instantaneous delivery and the ability to include files, photos and videos in said email? The advent and subsequent meteoric rise of smartphone's has also played a pivotal role in the way we now interact and communicate, they have positioned the internet with its plethora of communication options at our fingertips, you only have to look at the number of apps enabling near free communication to see what I mean.
Social media is another goliath in terms of modern communication, the various platforms which were non-existent only a short time ago now command astronomical figures which are truly mind boggling (At last count Facebook had 1.19 billion monthly users, Twitter had 115 million monthly users with 9100 tweets happening per second and YouTube had a whopping 1 billion videos views per day). The same methods now apply to communication in business and consumer engagement in particular, there is a saying that it costs six-seven times more to acquire a new customer than it does to keep an existing one so it makes even more sense to keep the lines of communication with consumers open and actively encourage engagement.
Know your brand
Understanding your brand in order promote and position yourself correctly helps increase consumer loyalty. Focus on the most attractive segments of your customer base and understand how your brand resonates with them, ask why are they with you, what is it about your brand that encourages them to carry out repeat business with you. A firm grasp of how your brand is perceived and resonates with the consumer will drive future pivots within your company, this can be measured by surveys, forums or social engagement. Use the garnered information to create strong emotional attachments to your brand. You have to be aware of consumer opinion and market trends. One only has to think how Kodak went from being one of the best known brands in the world but their failure to recognize the rise of digital photography ultimately led to their demise.

Create a relationship
You should aim to demonstrate the value of your business and start off your relationship with the consumer in a positive manner, show them the value you can offer by their continued engagement, entice them, reward them. Personalize their experience by saving their preferences for future engagement. Much in the same vein as the 80/20 analysis where 20 percent of your customers drive 80 percent of your business, research has shown that 17 percent actively participate in rewards schemes. Your aim should be to engage this active group according to their unique preferences, this will reap high dividends in terms of engagement. Understanding the demographics and behavior of your client base can provide invaluable insights and be of a major influence to future marketing campaigns and techniques.
Use Social media to maintain those relationships
As previously mentioned, social media has blossomed from a niche market to a market which has touched nearly all of us in some form or another. This is a channel which has a mammoth amount of active users and is somewhere where you should maintain a consistent presence, there are various channels you can utilize in this respect, they include many more than are listed but this gives you a general idea
• Email newsletters
• blogs
• Facebook
• Twitter
• YouTube
One thing to be aware of is not to stretch yourself too thin, if you have the resources by all means utilize all of these outlets to their full potential but make sure you can allocate the required time for each channel. The only thing worse than not having a presence is having a presence but it is dormant.
Target the right message at the right time to the right customer
Define your consumer and how they utilize your service, why are they using the service? What solutions are they seeking to what problems? Use this information to create segmented markets that you can pinpoint to gain an understanding of their tastes, wants and needs. Align your product from the information you glean from this process. Although the means of communication are changing the basics stay the same, find out what it is the consumer wants or needs, give it to them when and where they want it at a price that they will find agreeable.
Communicate all of this in a way that truly resonates with the consumer, focus on making real connections and building real relationships rather than blasting out your message to the masses and hoping it drives engagement.
Mobile centric
The world is not only online but is online and mobile. Millions of people around the world are using their smartphones not only as a means of communication but also as an internet browsing devices, your strategy simply has to be mobile centric. Surveys indicate that over half of smartphone users browse the web at least once a day using their phone. The implications of this amount of traffic are huge, the last thing you want is for someone to browse through your site but quickly move onto one of your competitors due to the fact that your website isn't configured to be viewed by mobile.
40% of your online traffic is mobile, this is a market share that is unforgivable and often fatal to ignore, you simply have to cater for this market. Mobile conversion rates have been shown to be making ground on desktop and tablet conversion rates and in some cases even surpassing them.
The evolving rules of engagement
The rules of consumer engagement have evolved and changed. Acquiring the customer is no longer enough, your goal is to deliver a customer experience that is so enjoyable at every turn that not only do you acquire and retain customers but they will become your loyal fans, spreading the virtues of your product or service due to the experience they have had. The journey from lead to monetization should enlighten, encourage, and inform the consumer, the entire experience coupled with relevant, insightful engagement can give your business an edge over your competitors. Engage with the consumer correct fashion and you can expect to secure a significant competitive advantage that will stand your company in good stead for the future.