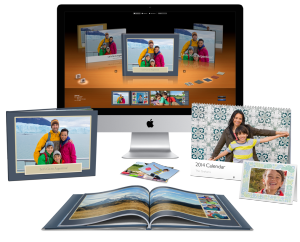 The definition of custom publishing, as stated by the Custom Content Council (the US association for custom publishers), custom publishing:
"… marries the marketing ambitions of a company with the information needs of its target audience. This occurs through the delivery of editorial content – via print, Internet, and other media – so intrinsically valuable that it moves the recipient's behaviour in a desired direction."
There is no time of the year like the festive season for a spike in consumer spending, companies and brands the world over are well aware of this and try and negotiate as many selling points as possible to maximize their monetization potential. In this respect technology giant Apple are no different, not content with commanding a sizeable share of the market due to the overwhelming popularity of their products such as the iPhone and iPad amongst other offerings, the Cupertino company has dipped it's toe into the world of custom publishing with the introduction of iPhoto as a free download for said products.
The service allows users to create their own photo album, book, card, calendar or poster. The service, which will go up against similar incarnations such as Snapfish and Pinstagram has many intelligent features including a search tool that lets you locate all your pictures of a similar size, (panorama sized pictures for example), or from a themed timeframe i.e. a holiday or event, these features make the process as seamless as possible and will no doubt attract interest due to its simplicity of use, a trait long pioneered by Apple.
An automated feature within the software will compile your chosen snaps into a book which will not only save time but will be a welcome helping hand for those not familiar with such processes. The additional options of adding text or changing the layout from the templates provided is also available. Once you have the editing process complete you simply have to wait a few minutes for the photographs to be correlated and assembled and sit back and wait for the fruits of your labour to arrive in the post. The finished product doesn't come cheap with the average album costing up to $39.99 for a hardcover and $29.99 for its soft cover counterpart.

There is no doubt that this form of custom publishing will prove extremely popular, especially at this time of year when such personalized items would be much sought after as gifts and keepsakes. This approach, while offering consumers more choice with their personal content and how they can utilize it, isn't really anything new. Custom publishing is something we have been seeing with increasing frequency in recent years and will continue to do so as traditional marketing methods have fast become out-dated.
Brands and companies have recognized the need for change and custom publishing has stepped into the breach, you only have to look around the world to see it in action. For example, in Germany nigh on every brand has a customized magazine filled with entertaining, engaging content about their industry aimed at their consumers, even McDonalds has one! Custom magazines can be traced back as far as 1895 when John Deere tractor manufacturers launched The Furrow, an agricultural title aimed at consumers within the industry with the purpose of providing specific content pertaining to the particular field. The journal is as popular today as it has ever been, it is published in fourteen languages and distributed in 27 EU countries, Near and Middle East, North Africa CIS and Eastern Europe, the broad appeal is still glaringly obvious today, the proverbial proof is in the pudding!
What this highlights with distinct clarity, is the appetite consumers have for this type of content, consumers are no longer willing to settle for sub-standard content, they no longer wish to be spoken to or told what to do and rightly so. They want to be informed, they want to be entertained and they want it on whatever device it is that they choose to consume it. This doesn't mean that print magazines are dead; there will always be people who prefer print over digital for a multitude of reasons. What publishers have to do, as Apple is embracing with their recent move into printing, is position themselves at the centre of a multi-platform strategy that reaches across all mediums and further enhance the brands standing and also the encourages further lines of engagement with consumers.
New avenues are opening up every day, there are more opportunities now than ever before to interact with the consumer and build solid, long lasting relationships, and this is just the start. There will be even more technological advances that will open ever more pathways between the consumer and the brand, the publisher and the advertiser. In the year to come video is expected to have an even bigger impact on publishing than the year that has nearly run its course, there will be many trends and technological advancements that will arrive in our domain that we previously wouldn't have foreseen, what won't change is that the quality of the content you provide will always be the deciding factor in how successful your publishing, custom or otherwise, turns out to be.
Only by publishing the highest quality content at your disposal, content that has a real, meaningful, valuable denominator for the consumer, will you truly reap the benefits that that this approach can yield. Position yourself as multi-platform supplier of content that pleases, informs, engages and entertains the consumer and you will soon find yourself as a go to source of content which will only have positive repercussion for your business and a brand as an entity. Get in touch with one of our digital publishing consultants today to learn more.