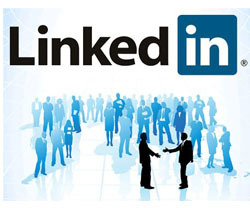 LinkedIn, the hugely successful social network for professionals, has announced some changes to the ways companies on their network can utilize their content and engage with end users. Previous to the 19th of November this year, the only way to receive content from a company was to follow the company and receive their updates. The launch of their new 'Showcase pages' feature is the platforms latest offering that provides curated content from existing company pages, the company is dipping it's toe in the curated content sphere and its Showcase pages are a first step in exploring this possibly lucrative avenue.
The company, which at the last count had over 259 million users spread across 200 countries and territories, is testing the waters in terms of how it can promote and ultimately monetize content.
"Starting today, LinkedIn members will be able to follow the specific brands and products they care most about that have Showcase Pages," explained LinkedIn in a post on their official blog.
The Showcase pages are basically sub-pages of existing companies and their content, the thinking being that companies could have many segments affiliated to them and by adding the Showcase pages features, companies can zone in on particular segments of their companies. This would mean that instead of following the entire company, individuals can receive curated versions of particular sections of the company's content which has more relevance to them and their individual interests. So in essence, the end user will receive more focused content pertaining more directly to their wants and needs.
Not be mistaken for the 'Company pages' that were introduced last summer and allowed companies to post job openings and updates, Showcase pages highlights specific segments of the company in the hope of driving up engagement with consumers by offering content that is directly related to their specific interest rather than everything the company may do. Showcase Pages make it possible for companies and marketers to promote the content they post to appear in users' news feeds.
"Showcase Pages are dedicated pages that allow companies to highlight different aspects of their business and build relationships with the right community," explained the post on LinkedIn's blog. "Whether it's a brand, a business unit, or an initiative, following a Showcase Page will provide you the updates you are most interested in."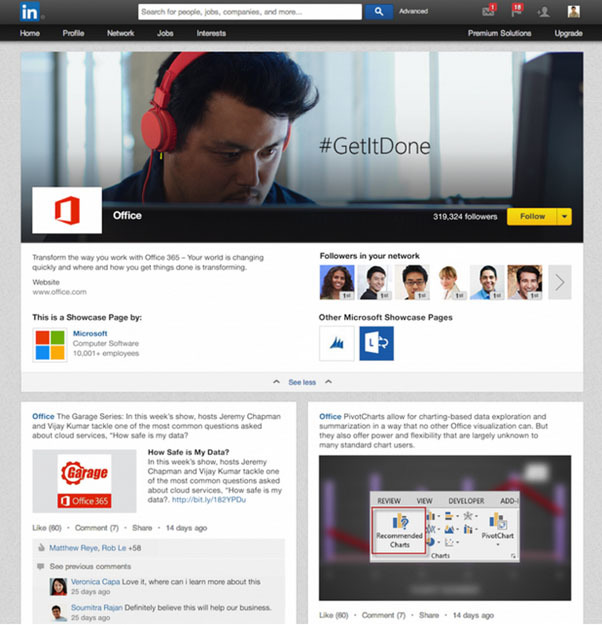 The benefits
The fact that the individual has to choose to follow your Showcase page provides each company with even more detailed information on who is following which part of their company. They can then zone in on these adopters with even more focused content with the goal of encouraging more engagement with the right kind of consumer rather than pitching one general message to the masses.
According to the network, Businesses will also be able to track the performance of their showcase page through LinkedIn's analytic tools. Each company can have up to ten Showcase pages, which is great if the particular company has many different aspects to their company which can be promoted individually. The option for additional advertising revenue has also opened up for the site, although the site will not charge for their Showcase pages the companies can still elect to promote them on the site through the company's sponsored updates or follower advertising products.
"End users can follow a showcase page without having to follow the larger company. The new pages will be rolling out globally over the next few days," said Aviad Pinkovezky, LinkedIn's monetization product manager. "The pages, he said, will give businesses on LinkedIn a way to connect with the right people."
LinkedIn will be relying on the hope that this pivot will aid in engagement with users and also to keep the user on their site for longer periods of time. The use of publishing tools is a sure sign the platform is pushing to supply a wider stream of content and data, of the professional kind, much in the same manner as Facebook and Twitter. The company's earlier acquirement of the news reader app Pulse was undertaken with this strategy in mind.

So in theory, LinkedIn's Showcase pages will allow companies to share content to a more focused and interested audience in the hope of driving up engagement and viewing times. The companies themselves can also advertise on these pages by purchasing follower ad's to increase the pages overall follower count. This move coupled with the earlier purchase of Pulse seems geared towards an overall strategy being implemented by LinkedIn to grow its revenue by encouraging brands to use the platform as a way of promoting their niche content to a broader audience.
Showcase pages may not be necessary for every company, if say, a company has one main product or audience then there is no real need to divide said messages or content, for others it could prove to be a very handy tool and a great opportunity to engage with members of the community that are more likely to share, consumer and engage with the content that they provide. This move by LinkedIn is yet another example of how curated content aimed at a particular audience can drive engagement and raise awareness of their brands, the move also highlights LinkedIn's efforts to create a deeper and more direct messaging outlet to visitors of a company page.