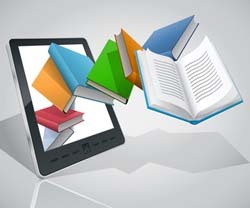 A quarter of all books sold in the UK and the US are now eBooks, this is a sector which continues to garner traction and looks destined to continue to do so.
"Three in ten adults read an e-book last year; half own a tablet or e-reader" (Source)
This is clearly an industry enjoying an upward trajectory and one would have to imagine that this will be further strengthened by the ongoing development of the devices at our disposal. While never claiming to completely replace the printed word, the eBook has become an ever more familiar sight within our day to day lives; a study by Pew research highlights this very fact with their findings that consumers are reading both eBooks and the traditional version of content that we have been with us for centuries, in tandem.
"Seven in ten adults reported that they read print books and eBooks simultaneously" (Source)
There is little doubt that eBooks are already playing an integral part in out content digestion habits and this trend is set to dominate and become more popular, Smartphones and tablets are now our preferred devices of choice when it comes to viewing material such as eBooks, these devices now dominate the consumer market and are the most popular method of viewing and digesting eBooks.With this in mind today's blog will focus on how to market your eBook and what are the ways that you can give yourself, and your eBook, the best chance of success through the marketing campaign you use to promote your work.
· Write to entertain or to solve a problem
First thing is first, your creation is going to have to solve a problem of pain point people may have in order for them to have a need for it in the first place. At the very least your eBook has to be entertaining, it has to be able to create a want within the reader to take the time and effort to locate and read your offering.
· Set up a website
The majority of eBooks are sold through Amazon, Barnes and Noble, Apple and Google Play among others but the one mistake a lot of eBook authors make is not setting up a website dedicated to their creation. This eBook strategy will act as a landing page for your publication, a sales page if you like, this page will be dedicated your eBook only and should include any testimonials and a short list of why your eBook is the one that the consumer should download. This landing page should also include a 'buy now' button that will lead the consumer to the location where your eBook resides.
· Build your own email opt in database
Your website should include an opt section for interested consumers to be kept up to date with any fresh information or content that you supply. It is your goal to solve the audience's problems or answer questions that interest them, by doing so you will build an audience who trusts your content and in turn will regard your eBooks with respect and raise the chances of them actually purchasing your publication.
· Start marketing as soon as you have the idea for a book
As soon as you have an idea for an eBook, sit down and think about it, give it a title, create a cover, include this cover in your blog. Blogging is a fantastic resource for actually engaging with your audience, when an audience visits your blog they can comment and ask questions, this is a great opportunity for you to reach out and make meaningful connections. Build anticipation of your forthcoming creation; create a short video or blog post about your book idea with an email signup form. You can also post your blogs to social media sites widening your reach and raising your chances of engagement.

· Integrate your social efforts into your eBook strategy
There are many social media sites at your disposal, why not utilize them? The main players are, broadly speaking, LinkedIn, Twitter and Facebook, it is of course possible that if you are in a niche market then there are other social media sites which work better for your particular niche. These sites can be used to pitch your opinion, share ideas and partake in discussions among like-minded individuals. This strategy will often result in increased traffic to your site and blogs, this traffic will be of a premium standard as it will be consumers with an actual interest in your publications and musings.
· The eBook itself
eBooks offer substantial advantages to publishers. Publishers can utilize interactive options within the software such as including notes and bookmarks, embedding video and audio and including email and web links to create an experience that is truly interactive and engaging for the reader.
The main players in eBook distribution as mentioned earlier are Amazon – Kindle Direct Publishing (KDP) and Apple – iTunes Connect, but there are other options also available to you such as selling directly from your website, through eBook stores or other retailers depending on your niche and particular needs.
Are you interested in publishing your own eBook?
Are you curious about how to embark on your eBook creation?
Then why not try out the free, fully functional trial of 3D Issue as the first step towards creating, and enjoying the benefits of publishing your own eBook.