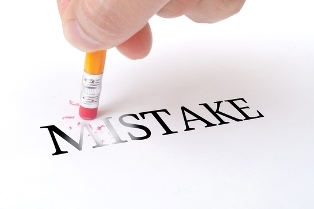 We've already talk about how important marketing content is for any business that wants to succeed.  But the truth is that not a day goes by without someone making a devastating mistake in this area. A mistake that not only could prevent you from achieving your goals but that could also end up hurting your brand. That's why today I'm going to talk to you about the most common mistakes in "Content Marketing" so you can avoid them.
1. Not having a plan
As you provably already know, creating high quality content is not easy,let alone doing so on regular basis. However, having a plan makes it easier to focus in what matters and allows you to identify what is working, what isn't and where you should implement changes to achieve your goals. If you're just releasing content randomly, chances are you won't be getting the results you expect. So before you start, sit down take some time and write down your plan.
2. Not having a targeted audience
It can be tempting to try to reach as broad an audience as possible, but by doing so you will probably end up spreading yourself too thin. Bear in mind that nowadays people don't have the patience or the time for general content. Customers look for things they are interested in and with the wide variety of options they have available, they tend to be quite selective. Trying to please everyone will take you nowhere. Instead, define the audience that suits your product better and put everything you have in providing them with what they need.
3. Inconsistency in tone
If you want to be taken seriously you have to be consistent. You need to figure out the kind of tone you want to use in your content, the one that suits your brand better. It doesn't need to be serious, you can be funny and informal it will all depend on your type of business, but once you choose one stick to it.
4. Wrong headlines
Yes, a catchy headline draws attention but it has to be clear too, otherwise you may end up not reaching you're targeted audience. A good headline should:
· Grab the attention of the reader
· Be clear, concise and easy to understand
· Include keywords
The headline is usually the first thing your reader is going to see especially when you're sharing your content on the social sharing sites. It's key to get it right.
5. Boring content
The Internet is the giant king of information, if you don't offer something that others don't, you will be missed among the millions of flashy, showy sites out there. Be different! Stand out from the crowd. Keep it simple but interesting, from time to time introduce new things topics, make it dynamic. Surprise your audience!
6. Not using multiple platforms and formats
Blogging is not the only option, there's a wide variety of content platforms out there. This year for example video content is expected to be the main player and so far predictions have been proven right. Don't be afraid of using new formats let it be video, blogs, social media, ebooks or digital magazines. There are lots of tools out there that can help you to get the best results, use them, take advantage of those which have more use to your business.
And this goes without saying, your content must be prepared to deliver the best experience in any device your customers choose to use. The world has gone mobile and more now than ever people are using their smartphones and tablets to access the content they are interested in. Your competitors know this, don't fall behind and show what you're capable of.
7. Not promoting your Content Enough
No matter how good, intelligent, interesting and well crafted your content is if nobody can see it. According to some marketing experts you should put 5 times the effort into promoting your content as you did in creating it. Find where your targeted audience is (Facebook, Twitter, Instagram, Google +…) and put your content out there.
8. You, you, you
We've talked about this several times. Yes, I know you are proud of your brand and you want everyone to know it, but so are your competitors. Don't talk, show. Show your knowledge, your expertise, why you are different "actions speak louder than words". By establising yourself as a trustworthy resource of information you'll be both creating long lasting relationships with your customers and increasing your chances to succeed in the market.
Now that you've finished reading this post I hope you don't make any of this mistakes again and let me give you one last piece of advice, if after this blog you're ready to take your content to the next level try the free, fully functional trial of 3D Issue and make your content come to life, you will not regret it!