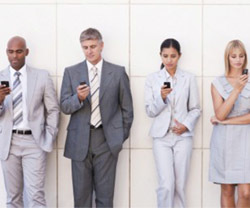 We all know that it is the content you create that is the main factor in attracting and engaging the consumer. The internet is absolutely brimming with content, some good, some not so good. The consumer faces content at their every turn, and as such has the option of picking and choosing only the very best and most relevant content pertaining to their needs, this is more prevalent than ever in today's digitally enhanced age.
Your content is your voice in your physical absence; it speaks for you, as far as the online consumer is concerned, it is you. It is therefore of the utmost importance to produce the highest quality content that the consumer will find relevant and valuable. This is sometimes easier to say than to actually carry out but don't despair, where there is a will there is a way! The key to creating content that will successfully connect with your audience will hinge on several factors.
Said content being available through mobile
There is no getting around it, the world at large has gone mobile, in order for your marketing content to reach its potential, your content simply has to be mobile centric. This year for the first time ever mobile access to the web overtook fixed internet usage and this shift in power is widely expected to continue. There are currently over 6 billion cellphones worldwide and of this 6 billion, one billion are smartphones, this is a channel which demands inclusion.
Read more on Cross Platform Content Marketing Initiatives for 2014 here
Embracing current and future content trends
The continuing expansion of 4G networks and the devices at our disposal becoming more advanced by the day, this is a channel which big things are expected of in the year ahead. Video has shown to have an extremely high conversion rate for consumers in comparison to the written word alone, a channel which will increasingly demand out attention now and in the very near future.
Read more about How to Use Mobile Video Content to Reach your Target Audience here.
Utilizing YouTube
As previously mentioned, video is already a huge market and this trend looks set to continue in the mobile domain due to the increasing capabilities of devices and networks. YouTube enjoys an estimated 1 billion unique users each month; the figures speak for themselves, this is a channel which you can ill afford not to be a part of.
Social media
There are very few consumers who are not involved in some method of social media such is its influence in our world today. These channels enjoy gargantuan numbers using their services daily, you should aim to establish and maintain a presence on these channels. One thing to keep in mind is not to stretch yourself too thin, monitor what is working and concentrate your efforts in these areas.
Blogs
The consumer is always looking for high quality relevant content, period. If you are supplying consistently good quality content then before long you will gain followers of like-minded individuals. Blogging is also a great tool for engagement as readers can leave comments on your blog which is a portal to striking up a conversation with them.
Email newsletters
Contrary to some reports, email marketing remains one of the most effective ways of reaching out to your target audience. Email newsletters can be advantageous in attracting and engaging your target audience.
Read more on How to Create Email Newsletters in Less Than 5 Minutes here
The consumer now has more choice than ever before in terms of the content they choose to consume, choosing which content you create and the method of delivery for said content is vital to your aspirations of attracting eyeballs to both your content and your business.
Thankfully help is at hand, we here at 3D Issue have long realized that a solution would be needed for the creation and delivery of your content in an easy to carry out and professional manner.
That solution goes by the name of Hubs.
Have you tried it yet?