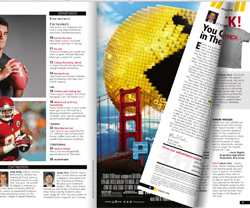 The print version of your catalog is performing well because you're a skilled marketer, but can you perform at the same level online?
Creating an eCatalog has many advantages, and yet a great number of retail and publishing companies steer away from the idea because it sounds too complicated.
We've got some pretty cool news for you. Creating an eCatalog with the right software can be a very simple process and the benefits for your business are enormous.
Before we dig a little deeper into the matter check out these blogs, they'll give you an idea about how easy it is to create a digital version of your print publication and why should you do it today:
• Converting PDF into digital form the easy way
• The importance of responsive content
• Why is digital media the future of marketing?
Now that you've realized how simple it is to publish your digital publication, let's get down to business. Here the key benefits of creating an eCatalog to showcase your products:
Marketing channel of its own
Having an eCatalog as part of your communication strategy is something you should look forward to.
Look at your eCatalog as a channel where you can implement a whole new set of actions to start the conversation between you and your audience and at the same time offer something more to your clients and advertisers.
An eCatalog is a platform where you can combine quality product presentation, engaging content creation, calls to action and anything you can think of to decrease your bounce rate and increase your conversions.
Increased engagement with your audience
A good flipbook software will provide you with the tools to build an eCatalog where your customers will not only find all the information they need, but also connect with your brand.
You'll be able to include interactive items on your eCatalog such as a shopping cart so your audience can easily purchase your products, or links that take you to a well-constructed and compelling landing page.
Quick customization and live update
When a customer opens up an eCatalog they are either ready to make a purchase or thinking about it. That's why it's so important to keep it up to date with the latest information.
When you don't take care of the publishing process yourself, making those updates and changes on a daily basis is unsustainable.
Luckily, software solutions like 3DIssue convert your PDFs into digital publications automatically and within seconds and a few clicks, all your changes are live.
Additional revenue streams
On an eCatalog you can add video commercials or include ads with links that will send the readers to external landing pages, imagine the kind of interest that these could generate among advertisers. Get creative.
If you are interested in creating your own eCatalog or digital publication, you can learn more about 3D Issue here, or start your free trial here.