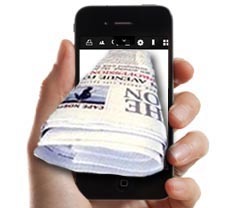 Last week we talk about why you should offer a magazine library app to your audience and showed you how to market your app on a budget, so it's a good time to dig a little bit deeper and discover the benefits of creating a news app.
A great number of industry professionals rely on a timely consumption of daily news in their respective business sector. That's why news articles and blog posts by industry experts are an invaluable asset for a wide audience worldwide.
However, creating an informative news article on time isn't enough anymore. Today you must use as many communication channels as you can. In fact, the increased usage of mobile devices for information consumption urges us to think about creating a news app.
1.Make friends with influencers in your niche
The good thing about news apps is that they're heavily used by industry influencers. You probably have a couple of them among your loyal audience and a news app will only motivate them to share your content on regular basis. This will open the doors to a high-end social media outreach campaign (Remember that news apps increase social mentions).
2.Promote without harassing
Advertisements may seem unnatural when placed just next to the featured posts section on your site. With a news app not only will this not happen but you will also be able to focus more on content marketing, on smart landing page placement, on adding animated banners in your posts, building a mailing list, and many other promotional tactics that can only increase their efficiency thanks to the convenience and reach of the mobile environment.
Make the communication with your audience easier
The world of mobile communication is very interactive and has its own characteristics so it's clear that you should develop a special strategy when approaching it. The good news is that your app will allow you to use more tools than before and communicate with your audience in a unique manner while managing to receive pretty detailed statistical reports.
3.Building a relationship with your audience
Now that you have your news app you've built a brand new communication and promotion channel, but that's not all. By tweaking the design of your news app and making some unnoticeable changes, you can directly affect the level of engagement of your audience and start building a special bond with them. Make your content easily shareable through your app and give the reader a chance to express their opinion in just a couple of clicks.
4.Creative revenue stream
Don't be modest. You've managed to create a pretty solid tool that will help you communicate with your audience. Now it's time to think about monetization. Depends on the nature of your business, but you can start thinking about sponsored product reviews, sponsored news, press releases, giving special offers to the users of your app, and many other creative ways that will become a strong revenue stream for your business in the future.
5.Turn the needs of your readers into your main source of ideas
Learn from your audience and ask them directly what they would like to see on your news app. After a while you should get a fully customized communication channel that fulfills every need of your average user. What else can you look for? These people will become your loyal followers and you can expect a high conversion rate whenever you send them something to their inbox. After all, what does anyone like more than being heard?
If you are interested in creating a news app or want more information how it could be of benefit to your business, send us an email at info@3dissue.com.