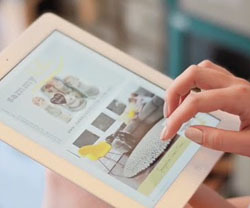 Print magazines are created so the reader can go through them from the front to the back and navigate with the help of a detailed table of contents. Websites on the other hand are little bit more chaotic. The visitor can reach the site through a landing page on Google and then navigate to any part of your site thanks to the smart internal linking.
Digital magazines are a hybrid of these two concepts, making them a unique communication channel in the online world.
If you're thinking about creating a digital magazine for the first time, there are many reasons why you should do it. Today we'll talk about 5.
Your Digital Magazine Acts As A Hub
Creating a digital magazine will allow you to connect different areas of your marketing-mix while managing to develop an inbound approach for your promotional activities.
You can include links to relevant pages on your site, videos or audio with relevant information or icons that will take the readers to your social networks.
A digital magazine allows you to include and provide much more information without having to stuff it all in a limited space. Besides, some information is better digested in video or audio formats.
Use Rich Media
Digital magazines often provide greater freedom than websites. Websites have to be compliant with SEO rules, Google's algorithm guidelines, etc. if they want to rank high and increase their traffic.
Magazines on the other hand are more versatile and allow full customization without the need of a technical person to do it. In fact with the appropriate publishing software, the only thing you'd need is a PDF with your content.
When you decide to create your first digital magazine you'll see how rich media looks better than it would on a regular website.
And what's even more important, your readers won't even need to have access to the internet to read it, so wherever they are, they'll be able to check your content.
New Revenue Streams Arise
What if there was a way for you to combine the revenue streams from your print magazine and your website? How good would that be?
Digital magazines offer this solution. You'll be able to include the full page ads from the print version of your magazine and add rich media afterwards.
Thanks to this, you'll be able to sell not only full page placements, but also video commercials and even dynamic banner ads that will link to your advertisers landing pages, making your magazine much more attractive for them.
It's Easy To Create a Digital Magazine
It doesn't matter if you're creating a digital magazine for the first time, if you're trying to adapt the print version of your magazine to the online world or if you just want to add another promotional channel for your website.
The easiest and most simple way to create a magazine is by using a digital magazine creation software.
Once you have your PDF, with just 3 simple steps you'll have your magazine published and ready to be viewed online.
Step 1. Import the PDF to the Software
Step 2. Customise to your liking and to match your brand
Step 3. Publish
Step 4.(I'm adding an extra one) Reap your reward.
Your Experience
Have you tried creating a digital magazine before? What was your experience? We'd love to hear what you have to say. You can email us at info@3dissue.com.
And if you haven't try it yet, what are you waiting for? Enjoy your fully functional 3D Issue free trial.