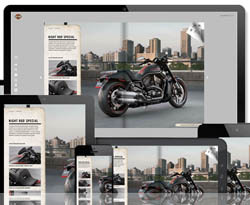 The world is online, this is a statement which we hear with increasing regularity and that's because, well, it's true! Our content digestion habits have changed nearly beyond recognition in a few short years. Smartphones and tablets are the first port of call for many people in their search for information, smartphones in particular are rarely too far from their owners reach for any sustained period of time, some people have become that attached to their smartphones for browsing the web that the thought of a day without them actually fills them with apprehension, such is their reach throughout society.
Now I am not saying that everyone is tied to their smartphone or tablet 24/7, I'm merely highlighting what an important element within our day to day lives they have become and how this, in turn, has affected our content digestion habits. More people than ever before are reading content online so with this in mind in today's blog we are going to briefly cover some guidelines for creating a digital edition to showcase your content.
Here we go; I hope you find some points of value.
1. Accessibility-
When deciding to create a digital edition, it is important to put some time aside during the planning phase to determine which format is best for your publication. If the publication is a traditional text heavy book, then you would probably be best to consider publishing in eReader format. Whereas if your material is more graphic orientated or includes rich media necessary for publications such as brochures or magazines, then an online publication may suit better.
2. Size – Quality v Speed –
Is your online publication taking too long to load? There are several settings that could be causing this to happen and with a little adjustment your publications can be much quicker to load. It is important that you find the right balance between the quality of your edition versus how long a user will wait to download. Consider that some readers may be on older machines and have varying internet speeds. There are certain media elements that can cause publications to increase significantly in size. If using embedded video ensure that videos are optimized for web and are kept under 15MB.
3. Love your data – understand your analytics & readers-
Once your digital publication is online and published, it's vital that you look into the statistics and track how successful the edition is. How is the magazine performing? What part of your edition is gaining the most traction? Are there weaker parts and stronger parts within your publication, how can you fix this?
Is it attracting the right person/your target audience? Without tracking and analyzing the performance it will be difficult for you to make the necessary adjustments to future editions to improve performance and reader satisfaction.

4. Scan proof –
Less is most definitely more. Short and snappy copy will catch the readers' attention resulting in them taking in more of your information and giving your calls to action more chance of resonating. If there is more information available somewhere else, (on your website for example or in a related whitepaper), make use of links instead of including all the text in the digital edition. If the article or product description in the brochure is particularly long and cannot be shortened any more, then consider breaking up blocks of text.
You could use images, bullet point lists, highlighted quotes or subtitles to break up the copy. These variations of formats will make the page less cluttered and more attractive to your readers.
5. Highlight key points
Titles, headings and sub headings are very important, these are the key elements on the page that stand out and are the main elements used to attract people to stop on that page and read further. Readers will make quick decisions of whether they will read on based on your headings.
To properly optimize your publication for digital viewing, one key point per page works best for digital publications. This enables readers to instantly get a grasp of the topic being described.
6. Optimize for search engines
If you creating an online magazine, then it is vital to optimize the publication for search engines. You should at least be sure that the text in the publication is searchable and that page titles, description and keywords are added to the edition.
Take some time to create different SEO profiles for your different publications so that the keywords for each brochure or magazine are relevant to the content.
7. Make it easy for your readers
Your digital publication should be made easy – easy to read, easy to access and easy to share.
Consider the number of potential 'first time' readers will be accessing the publication and take steps to help these readers. I.e. add a help article.
It is always a good idea to test the publication with someone outside of your team. This can give you honest feedback and user experience to identify any potential glitches. Optimize the content for web reading and allow readers to download offline editions to read at their own pace.
Consider:
– Using bullet point lists
– Activating a help guide
– Continually asking for feedback
– Ensuring copy is optimized for online viewing
8. Be unique
Content is King! We've heard this many times, it's true. Readers now have so much choice, by entering a simple search using just a few key words; readers are presented with a number of articles, news and opinions. Why should they choose yours?
To enhance the value of your digital content – be unique! Stand out from the other choices presented to the reader. It is the unique articles and content on the web that makes the reader want to share this publication or article amongst their social networks – benefitting both them and you.
9. Optimize design for digital viewing
The methods employed by digital and print consumers to read and digest various media differs. They scan the material looking for key points of interest, once they spot something of interest they can then delve deeper into said content. The digital reader may also be for viewing on smaller devices such as iPads and mobile devices. The available reading space can therefore be much smaller than the full size print publications.
Think about how you can optimize the design and layout for these unique situations. Consider making articles shorter, text larger, adding highlighted or feature points that will stand out on the page. As mobile devices show the publication as a smaller version, optimize the pages so that they can view the text without having to zoom in.
10. Get and act upon feedback
There are many places you can ask for feedback; for example through email campaigns, website questionnaires and social media are all good places to conduct surveys, another great place to utilize is the Google analytics feature within your digital publication itself.
Readers can give invaluable feedback which can then be put into practice to better future publications. There may be a few minor tweaks that can be made that will make a huge difference to the satisfaction of your readers. If you don't ask, you could be oblivious to their issues.
If you liked the points we have highlighted today why not check out some of our other resources such as our video tutorials, user manuals or even attend one of our twice daily (Monday – Friday) webinars where a representative will walk you through all the elements of the software and answer any questions you may have.
Try the free, fully functional trial of 3D Issue today