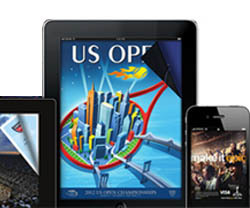 In this blog we will discuss how to create magazines that are catered for consumption on mobile devices such as the Apple iPad, iPhone and all Android devices.
We shall also look at why you should create a publication with the mobile market in mind.
With 3D Issue digital publications are created in Flash and HTML5. HTML5 is supported across platforms and is supported on Apple devices such as iPad and iPhone and Android devices such as smartphones and Android Tablets.
In order to create a publication for mobile devices, you simply need to;
1.       Create your PDFs.
2.       Import the PDFs into the 3D Issue software.
3.       In the setup wizard select the domain in which the publication will appear.
4.       Customize your digital publication and make it interactive
5.       When ready to upload, input your FTP detail in the output tab.
6.       Click Build and watch your publication change from PDFs into a digital publication that is hosted on your website.
7.       Test your publication across a range of devices to see the outcome that your publication is catered for prior to full distribution.
According to www.gigaom.com, 166.9million iPhones and smart phones were sold in the US in 2012 alone. This accounts for more than half the populations of the US.
It does not seem very long ago when in 2010 Amazon reported that for the first time in their history, the sales of digital publications outnumbered the sales of hardcover books by 143 digital copies to every 100 hardcover copies.

So it can be fair to say that Digital publishing is the way of the future. But in regards to readers, what will they be reading the digital publications on?
According to www.newmediatrendwatch.com, Tablets continued to gain traction in the US in 2012, with 52.4 million US tablet owners as of December 2012. By 2015, it is forecasted that the number of Americans using iPads alone will be 90.8 million.
Going by these trends, it's fair to say that if you are creating a digital publication, it is vital that you create it with the Mobile market in mind also.
When a publisher creates a publication using 3D Issue software, they can have the peace of mind that it is catered for across devices and will reach the intended audience.
By Derek Kelly